A fruity, clean and polished malt with a touch of honey and spice, Aberfeldy 12 Year Old is an excellent introduction to this Highland distillery. Aberfeldy's main claim to fame is as the heart of the excellent Dewar's blend but whiskies like this are putting it firmly in the spotlight.
The Aberfeldy distillery is sited on the the river Tay in the central highlands of Scotland, within a short walk of the birthplace of the founder and some call the pioneer of blending, John Dewar. The land was acquired from the Marquess of Breadalbane and the architecture designed by Charles Doig, the distillery began production in 1898. The location of the distillery was chosen for its supply of good water and the railway that linked it to the town of Perth.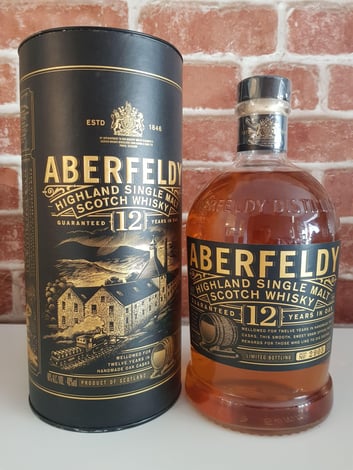 John Bonnie's family found men in the town of Aberfeldy who were experienced in whisky making and new techniques. They use those same techniques today such as long fermentation to conjure honeyed notes, and they draw their water from the pitilie burn, famous for its quality and the legend that promises of gold...
The whisky itself is mellowed for 12 years in handmade oak casks, it's smooth, a sweet dram that offers some rich returns as you go down through the bottle. Based on their storage and climate, they lose nearly a third of every cask to the Angel's share.
Tasting Notes:
Aberfeldy 12 Year Single Malt Scotch Whisky

Nose: Fresh and fruity – freshly cut melon, green apple and pear – along with hot toast and honey with a sprinkling of freshly grated nutmeg.
Taste: Lovely smooth texture, with rich honeyed fruit freshened up with crisp apple notes. Gentle, sweet spice adds to the complexity. Very drinkable.

Finish: The rich mouthfeel lingers, with the honeyed fruit lasting longest. Good balance.