Athrú's second single cask release is the 6 Year Oloroso Sherry. This cask was chosen by Ollie Alcorn, the head distiller at Lough Gill Distillery. The whiskey is a small batch of rich Oloroso sherry hogsheads, which came from a Bodega in Cordoba, Spain.
With thousands of casks to choose from in their bonded warehouse, how does one narrow it down? Well, that's exactly what they did. Finding the best cask to use in each batch, and was made easier when each cask being filled is witnessed. Therefore, a few casks were registered to keep a close eye on, and the results are quite something.
These casks were specifically marked for older expressions of whiskey stock but there was 13 casks leftover in the shipment and Ollie decided to transfer some of their 2015 whiskey into the remainder from bourbon barrels. All 13 of these casks now have great colour and aroma for a relatively young whiskey. The reason for choosing this particular cask is for its depth and richness of flavour, with Oloroso and PX sherry giving such a great colour and depth of flavour.
The Athrú 6 Year Oloroso Sherry Single Cask is at cask strength, so I recommend trying it neat first, then reduce the ABV using 1-3 drops of water between sips to release some new flavours and reducing the intensity of the liquid, the changes in aromas and palette are quite amazing.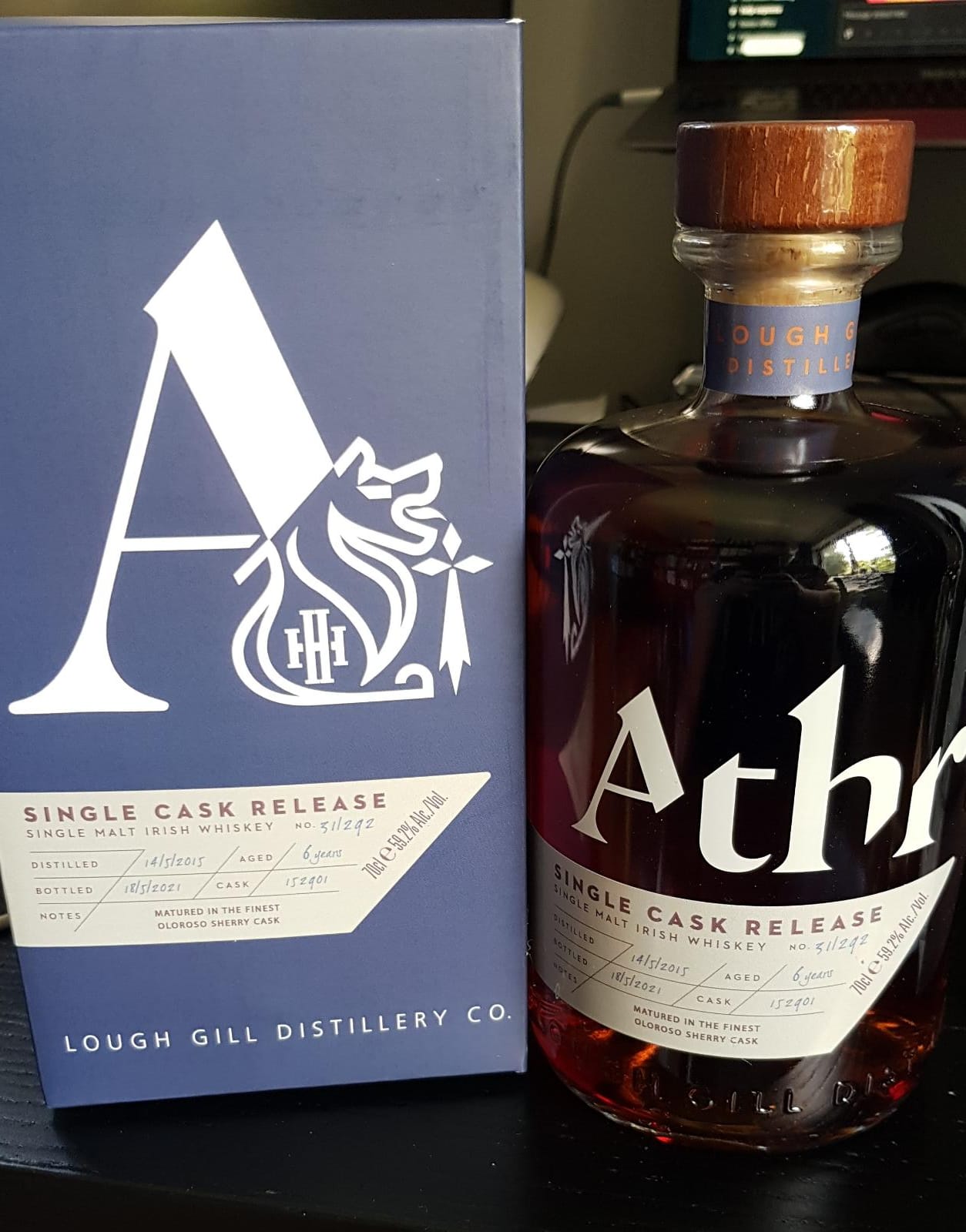 This bottle retails at €95.00 sold exclusively through the Athrú website.
70cl, 59.2% ABV (295 bottles).
Cask type: first fill, Oloroso barrel (240 litres)
Cask yield: 295 bottles / 59.2% ABV
Distilled year: 2015
Bottled: May 2021 (6 years old)
Tasting Notes:
Athrú 6 Year Oloroso Sherry Single Cask
Whiskey Review
Nose:
Honey, lemon, plantain, caramel, and oak. Vanilla cereal sweetness fights its way to the forefront, caramel, oak follows in the background with some sherry wine notes. Dried fruit, toffee and nutmeg.
Palate:
This whiskey has a luxurious mouthfeel, creamy, smooth and velvety. Think about letting top-quality chocolate melt on your tongue. The vanilla dissolves into cereals notes mixed with cinnamon spice on the side of the tongue. The vanilla and chocolate melt away, as a faint touch of coffee appears.

Finish:
The finish starts with a great creaminess, with undertones of fruit cake and light chocolate notes from the sherry cask. Bottled at 59.2% ABV you might expect a slight alcohol burn, but there really is none, which can be unusual for a youngish whiskey. A light spice remains on the finish with a light warmth that leaves you wanting another pour.