Bruichladdich's have always been known for their exploration into the unknown and always willing to test, and this shows through their experimentation with terroir shines with its Barley Series. That's right, Bruichladdich was exploring terroir before Waterford Distillery made it a thing... Their constant exploration and attention to detail since the revival of their distillery in 2001 makes Bruichladdich a sought after distillery. At the forefront of Bruichladdich is transparency. But hold up... what the hell is terroir? Well, simply put, think of the organic farmers tracing your food back to the exact farm location, also known as farm-to-table, well Bruichladdich give us farm-to-bottle.
The Bruichladdich Organic 2010 is made from organic barley, by farmer William Rose of Mid Coul Farms, a century farm in Inverness, Scotland. It has gone from traditional to high-tech in order to meet sustainability both environmentally and economically. The organic barley is grown in a "seven-year rotation among organic cattle, sheep, oats, beans, grass, carrots and market gardening."organic farming works in harmony with nature, nourishing the soil with sustainable practices as opposed to conventional farming where the soil is maintained through artificial inputs.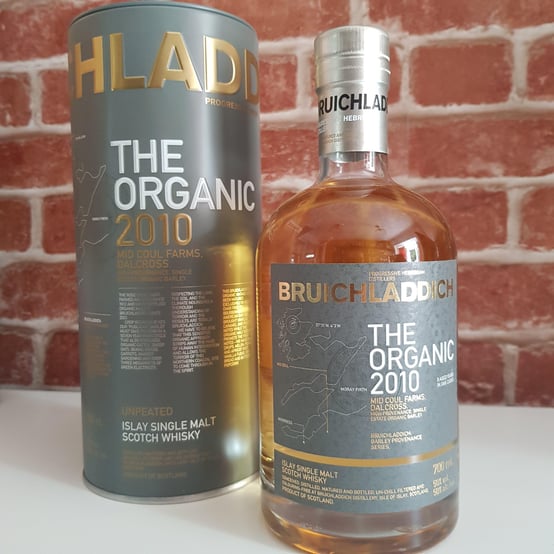 Crop rotation is the key to their success. The organic barley from Mid Coull farms must take its turn in a seven year cycle that also produces grass for organic cattle and sheep, oats, beans, carrots and a megawatt of green electricity. Well nourished, well balanced soil produces healthy, strong plants which are generally cultivated for flavour not for yield.
Being an organic farm, Mid Coul does not use any artificial fertilisers, herbicides, fungicides, and pesticides; especially those that are petrochemical based. However, to still get the same high level yield without the use of chemicals Ensuring high crop yields without any of these chemicals of course has its own challenges and it is tough work. It requires the use of special machinery and unique approaches to cultivation.
Bruichladdich The Organic 2010 is the 2nd release in the Barley Series(the 1st being the Bruichladdich Islay Barley 2011), and it is a stand-alone in the Barley Series. However, it isn't the only stand-alone from 2010. The 3rd in the Barley Series is the Bruichladdich Bere Barley 2010. The crops grown and harvested in 2009 are from two different regions and two different farms.
Tasting Notes: Bruichladdich The Organic 2010
Nose: Loads of fresh malt, with lemon curd, toasted marshmallow, tropical fruit and floral heathy alongside buttery pear tart.
Palate: Butterscotch, barley sugar, boiled apple sweeties, chocolate, macaroon, freshly baked bread and spicy oak.
Finish: Oak char and orange chocolate alongside a maritime finish with a touch of salt.