I wouldn't be giving justice if I was to continue talking about the revival and the renaissance of Irish whiskey and only mention whiskeys from the Republic of Ireland... or could I? Most of Irish whiskey has been dominated by the names of Jameson, Cooley and Great Northern, but let's not forget the giant that is Diageo, and their operation in the North Ireland. And lest we forget, Bushmills was granted their license to distill in 1608, making Bushmills the oldest licensed whiskey distillery in the world!
If you were to think about a generic Irish whiskey, then Bushmills doesn't fit in that group. The names that would pop up are Jameson, Powers, Paddy's, Redbreast, etc. But Bushmills have been somewhat different during its long history, for example, they didn't begin triple distilling until the 1930s, but they adopted a system similar to that used in Scotland rather than the one generally employed in other Irish pot stills. Is this because geographically they are closer to Scotland than Dublin or perhaps it was the influence of Charles Doig, the Scottish architect, who remodelled it in the late 1800s... who knows???

Diageo acquired Bushmills in June 2005, and since then they have heavily invested in renovating the old buildings, expand the production facilities and build up their stocks. Bushmills has generally not been known for product innovation, until now when they recently released their Causeway Collection, check them out below.
Bushmills offer a range of single malts and the blended Original and Black Bush but it's probably worth paying a little extra for the Bushmills Black Bush version. It won the top award for Irish blends at the World Whisky Awards in both 2007 and 2010. It's rich and fruity and would, I suspect, pass as rather more expensive than it actually is in a blind taste test. That's because it contains a healthy proportion of single malt, aged in oloroso sherry casks for around 8 to 10 years before it is introduced to the grain. Which, incidentally, still comes from Midleton, the home of Irish Distillers, former owners of Bushmills.

There is an attractive visitor centre and the strange basalt columns of the Giant's Causeway are only a short drive away. I view this as something of a sleeping giant, or a brand that's biding its time. Diageo didn't spend all that money buying and expanding it not to have something up their sneaky sleeves. Purchase Bushmills Black Bush here.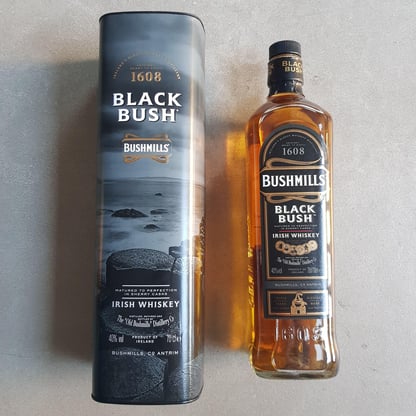 Tasting Notes: Bushmills Black Bush
Nose: Rich and warming. A spiced toffee apple.
Palate: Lots of body, chocolate-coated raisins and nuts. Fruitcake and liquorice.
Finish: Luxurious; sweet and long.