Chivas Regal 12 year old blended scotch whisky is, if you listen to their marketing team, is described by the beautiful Highlands' Strathisla malt whisky distillery as the "spiritual home" of Chivas. Strathisla and other Pernod-Ricard owned Speyside malts are indeed the main malts on which this blended whisky is based.
Mastered to be the heart of all that is Chivas. Perfected to be smoother than a surfer in a barrel. A tidal wave of Strathisla malt and grain, and blockbuster taste notes from luxurious honey and vanilla, to ripe apple. It's our warm, generous dram that's born to thrill, and to steals hearts. Because success is a blend, in life and in scotch, so they say.
The origins of this blended Scotch whisky lie in a grocers and wine merchants opened in Aberdeen by William Edward in 1801. James Chivas joined him as his assistant in 1836. Five years later, when Edward died, Chivas took over the business with a partner. In 1857, James dissolved his partnership and brought his brother John into the business, creating the company still known today as Chivas Brothers.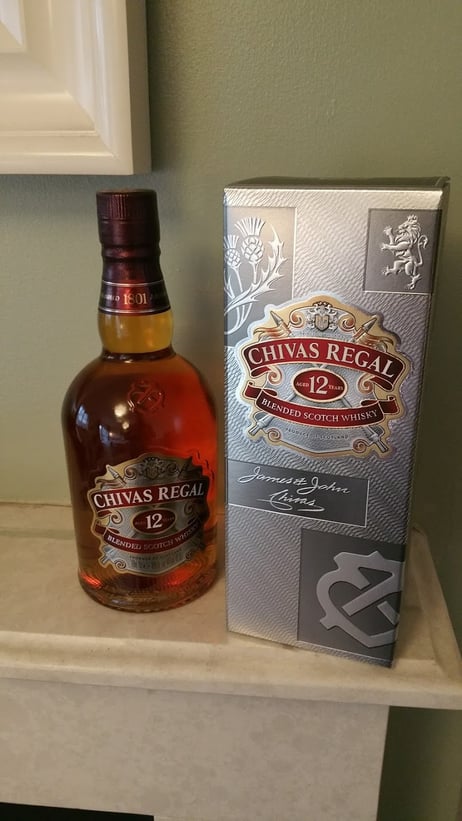 Chivas Regal was created in 1909 by the then owners of Chivas Brothers (neither of them family members) with a view to the lucrative U.S. market. In 1949 Seagram & Sons took over both the brand and Chivas Brothers Ltd, both of which today form part of the vast Pernod-Ricard portfolio.
Tasting Notes: Chivas Regal 12 Year Old Blended Scotch Whisky

Nose: Dry grainy notes with background scents of dried flowers and parchment, and deeper fragrances of light toffee, almond paste and yellow fruit.

Taste: Oily, buttery and semisweet; the whisky dazzles at mid palate with layered flavours of brown butter, cooking oil, barley malt and oatmeal cookie underpinned by the single malt foundation.

Finish: Smokey, satiny and ultra-sophisticated.