The first of the Cask Series, the Port Cask is triple distilled from an undisclosed distillery, malt and grains aged in ex-bourbon for around 8 years before finishing in Port casks from the Douro Valley in Portugal. Before bottling, Clonakilty say it is "cut with water naturally filtered through our coastal rock formations", adding their own little touch of home to really make the whiskey different. This looks to be a brilliant addition to the already impressive line-up of Irish whiskey out there but as we all know by now, it's the taste that matters. The port influence is not just seen but also beautifully evident on the palate.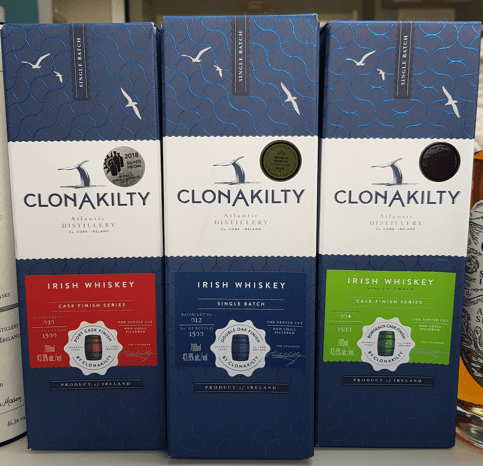 I've had the pleasure of drinking a few of the Clonakilty line-up, following the Bordeaux Cask Strength and the Cognac Cask, both very good. We've been keeping a keen eye on the Clonakilty distillery, considering an investment in a cask with their new make which we got to sample at Whiskey Live Dublin 2019. However, the Cask Series looks to be interesting, though I'll be dissapointed should they ever drop the port cask expression. Coupled with this is the fact that they've got the port cask right; quite a few whiskies have tried to do a port finish only to end up with something either too sweet or simply too much sugar, in the Clonakilty, it feels as though the dram was planning a dip into port all along.
The nose on this whiskey is intriguing, it is a tad bashful to start but as it opens, it is an orchestra of aromas. Wine notes mingling with toasted cereal hit first followed by barley, over-ripe red apples and dark cherries. As it develops the maritime influence is evident, mixing with warm ginger and damsons tones. A Silver medal winner at the New York World Wine & Spirits Competition.
Tasting Notes: Clonakilty Port Cask Finish
Nose: Maraschino liqueur, pickled cherries, toffee and a little honey, but all that rather reserved, cinnamon and some fennel, some tannins and leather, dark chocolate, cherry pits and fresh dough.
Palate: Fresh cherry juice, a little unripe cherries, toffee and some white pepper, clove, nutmeg, fennel, some eucalyptus (the spicy and minty notes seem to be the distillery character), cherry pits, some red apple, grapefruit and some blood orange with time in the mouth nice fuller and also fruity with slight bitterness, the spicy parts go back, beautiful honey with oregano and thyme, malt, bread dough, but nice in the mouth for the Alcohol %.
Finish: Dry, malt, cherry pits, pepper and nutmeg, tea, bread dough, honey, medium to long.