Curraghmore Estate - Carbon-Neutral Organic Whiskey Distillery
In Co. Waterford, the nation's first carbon-neutral distillery will be constructed to create organic whiskey. Planning clearance has been obtained for Curraghmore Whiskey to build a carbon-neutral distillery on the grounds of Curraghmore Estate in Portlaw, Co. Waterford, where whiskey is currently produced off-site. A local farmer will cultivate the barley for the whiskey on the estate, and it will be utilized to make single-estate pot still and single malt whiskey there. The farm's oats will also be used in the manufacturing process. The distillery will be equipped with pot stills built in Ireland.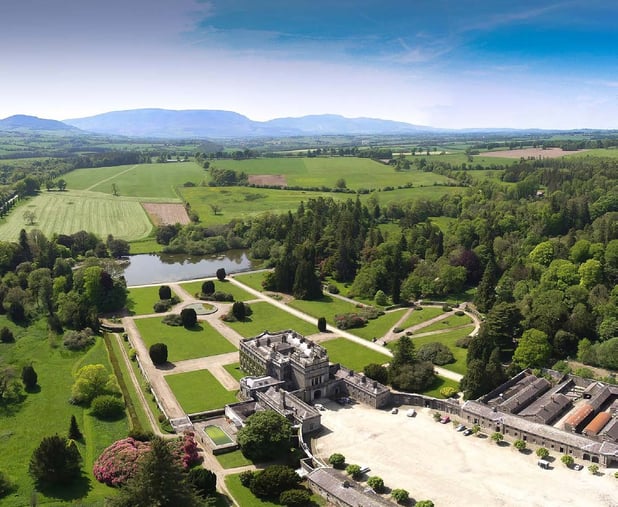 Distillery Visitor Centre
The project will start in 2023, and it has the ability to produce 250,000l annually. There will be a tourist center on the property that can accommodate 10,000 visitors annually. The distillery will be housed in structures from a 180-year-old farm. The corporation claims that it was the first industrial farmyard designed by renowned architect William Tinsley. Within ten years, a carbon-neutral distillery is the goal. This will be done in a number of ways, including by employing solar panels set on the ground and an existing water wheel to produce hydroelectricity.


Treatment System
On the property, there will also be a producing water well and an integrated engineered wetlands treatment system. Richard De La Poer Beresford, the founder of Curraghmore Whiskey, made the following statement following the approval of the application:
"We are excited to announce planning permission has been granted for Ireland's first super premium organic, carbon neutral distillery at Curraghmore and we look forward to this new chapter in our business. Our vision has always been to create a sustainable, organic, carbon-neutral pot still whiskey and with this distillery on the horizon, it looks like it will come to fruition. Curraghmore Whiskey is at the sweet spot where organic farming meets environmentally responsible distilling - we're offering the market a whiskey that not only has a provenance and authenticity that is unmatched, but also one that is sustainable and gives back to the land - a win-win for everyone. Our aim is to create a lasting legacy at Curraghmore that will grow and prosper for generations to come."

Richard De La Poer Beresford - Founder of Curraghmore Whiskey

The History
Did you know that the Curraghmore estate is home to Europe's first industrial farmyard? This location is home to five unique structures that are still in pristine shape and make up the first industrial farmyard in Europe. These five structures will be transformed into the Curraghmore Whiskey distillery and visitor center, according to their concept. Because of their significant historical value, they shall handle these structures delicately. They are in remarkable condition considering their antiquity, and they are confident that they will make the ideal backdrop for their distillery.
What is an Industrial Farmyard?
Modern farming practices that involve industrialized production of crops, animals, and animal products like milk and eggs are known as industrial agriculture. To achieve a regular and dependable scale in output, industrial agriculture uses innovation in farming practices and agricultural equipment.

Together with the Industrial Revolution (1760–1840), industrial agriculture emerged, especially after the discovery of plant fertilizers like nitrogen, potassium, and phosphate, which increased crop yields, and the role of vitamins in animal nutrition, as well as the discovery of antibiotics and vaccines, which greatly increased animal outputs.

The design of the "factory floor" or "assembly line," which is used in manufacturing operations, was also introduced by the industrial revolution.


The Future
By repurposing these buildings to create the Curraghmore Whiskey Distillery and Visitor Centre. Curraghmore commit to honouring the historical importance of these buildings and will ensure every effort is made to preserve their integrity.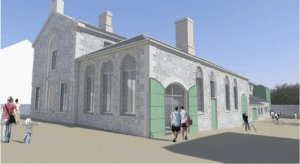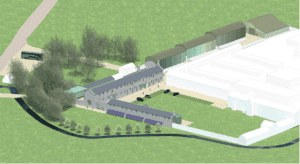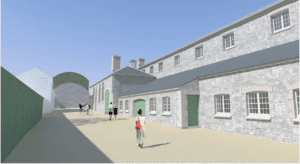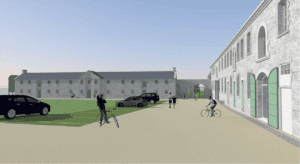 They want the distillery site to be sustainable and environmentally aware, so they are including ground-mounted solar panels, an integrated constructed wetlands treatment system and a production water well in the design. The existing water wheel pump will also be adapted to generate hydroelectricity. This ties in with their target of achieving organic and carbon-neutral status within 10 years – A first for any distillery in Ireland!
Developing such a distillery at Curraghmore Estate means that Curraghmore Whiskey will be the only truly organic, carbon neutral single-estate pot still/ single malt Irish whiskey distillery in the country, with Irish-made pot stills, that is truly independent across every aspect of its production process.