Fercullen Five Elements, 46% ABV
This was a new experience for me, not only a new release that I hadn't tasted before but the complexity that has gone into this creation of this Irish whiskey. Five Elements is an 18-year-old single malt in the Fercullen range by Powerscourt Distillery in Co. Wicklow, that was released with a batch of 1500 bottles.
Let's break down the 5 elements that make up this whiskey...
A Single Malt, A Single Distillery, A Single Distiller.
Two types of oak maturation; American White Oak and European Oak.
Three different finishing casks; Red Wine, Ruby Port, and Rum.
Four styles; Bourbon, Red Wine, Ruby Port, and Rum.
The globally recognised touch and blending expertise of Master Distiller Noel Sweeney.
As you can see, this is not your average whiskey, Fercullen 18 Year Single Malt Five Elements uses two types of wood; American Oak and European Oak, both bringing their own impact and influences. Not only do the casks add influence, but they have also previously held Ruby Port, Red Wine, Rum, and Bourbon. Even though casks are the biggest influence on whiskey, it is the decision of the Master Distiller, in this case, Noel Sweeney who decides what finally goes into the bottle, the fifth element!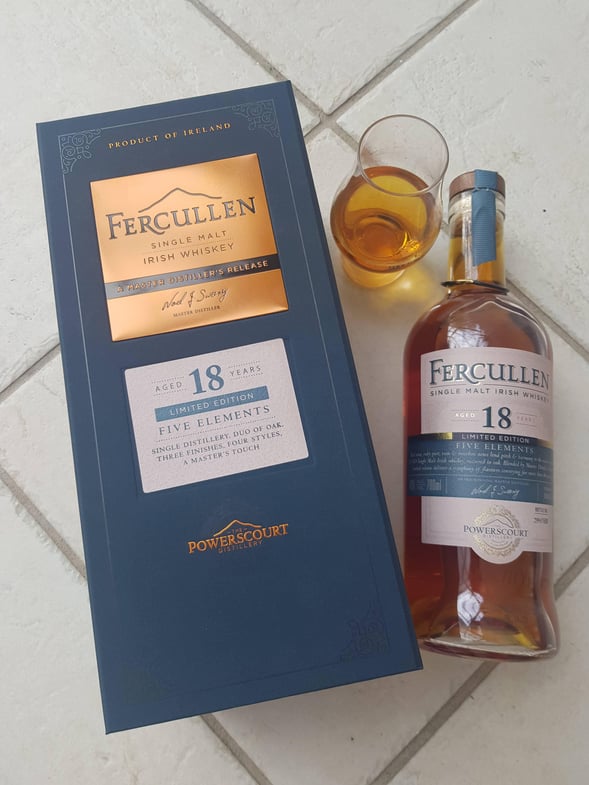 This was an exceptional tasting and it also made me realize how complex and varied my palate really is. Even though this wasn't a blind tasting and I had an insight into what I should be experiencing, this whiskey still exercised my brain and tastebuds. I went searching for certain aromas and flavours and it kept me guessing more and more with each sip. Interested in purchasing a bottle? Here is where you can pick up a bottle.
Nose:
Initial top notes of boiled sweets, vanilla, and honey intertwined with a twist of lemon, and sweet orchard ripe fruits, plums, raisins, cinnamon, complimented by tropical fruits, pineapples, mango, banana, layered over a duo of oak wood notes, showcasing an intriguing balance between spirit and wood.
Taste:
An initial burst of tangy fruit cocktail sweetness, with layer upon layer of smooth silky sweet malt, chocolate, and Christmas cake, creating succulent texture and balance as the tropical fruit, rum, red grape skins build delivering waves of complexity and taste.
Finish:
The long-lasting sweetness from ripe fruits and velvety texture almost mouth-wetting to finish.