Hyde No.9 Iberian Cask with each bottle in the series, going from number 1 to number 9, is created by Irish bottler Hibernia and honours a significant year in Irish history, particularly in the life of Douglas Hyde, the first president of the Irish Republic. Particularly this bottle represents the year 1906, when President Hyde made his first trip to the US, reaffirming the long-standing ties between the two nations.

Now, down to the whiskey, it is a single malt manufactured from malted Irish barley in an unidentified distillery. It was then aged for at least eight years in former Kentucky Bourbon barrels before spending nine months in former Tawny Port barrels from the Portuguese village of Pinhão. The bottle was produced in a limited quantity of just 5,000 bottles.
The malt has been worked on by the port, which has resulted in a powerful aroma of berries (wild strawberry and blueberry), gooseberries, malt, and lemon juice, all of which are encased in a cozy spicy layer of cinnamon and nutmeg. pine nuts with ginger cookies. Dark and rich.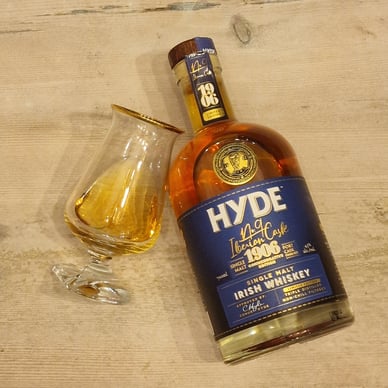 The flavours of plums, crisp apple, berries, orange peel, vanilla, and little biscuits add to the palate's vinous and sour profile. The leitmotif of the dram is spice (cinnamon, nutmeg, black pepper, and a hint of ginger), with flashes of lemon and propolis interspersed. Finish with dried fruit, plums, malt biscuits, and sultanas that is quite lengthy and peppery.
An Irish whiskey, where the port ageing has given it a peculiar personality with a thrilling mix of vinous and warming smells, and it is perhaps not the most inviting whiskey to drink for a newcomer, however, it is delicious just the same. Buy it now here at Irish Malts.
Nose:
Dried dark fruits with hints of cinnamon, nutmeg, and blackberry.

Taste:
Notes of green apples, honey, citrus, spice, dried fruit, black pepper, and hazelnut.
Finish:
Medium to long with a grapey, malty, spicy, lingering vanilla-like buttery finish.