The now infamous Spot whiskeys were once unknown, hidden away behind the rows of cobble stone Dublin streets in the early 1900s. But behind the scenes, they were slowly making a name for themselves with their rare whiskey. What seems like a pretty simple way of tagging or marking the barrels of whiskey with a different colour, became the naming convention of the brand, not only for its' age profile. The whiskey was bonded and bottled by The Mitchells, a seventh generation family business, needless to say, they know a thing or two about whiskey. From their now iconic Green Spot, Yellow Spot, their recently revitalised Red Spot, you will now find the new release of Blue Spot Irish Whiskey.

Blue Spot, which was discontinued, rejoins the Spot family, back among the Green Spots, Yellow Spot and Red Spot in Irish Distillers' Spot Whiskeys range. It has been created using an old recipe handed down by the Mitchell & Son family of wine merchants, who created the original Spot Whiskeys in the early 1900s. The team at Midleton Distillery, where the Spot Whiskeys are produced, "worked closely" with the Mitchell family to bring Blue Spot back to market, after the successful revival of Red Spot.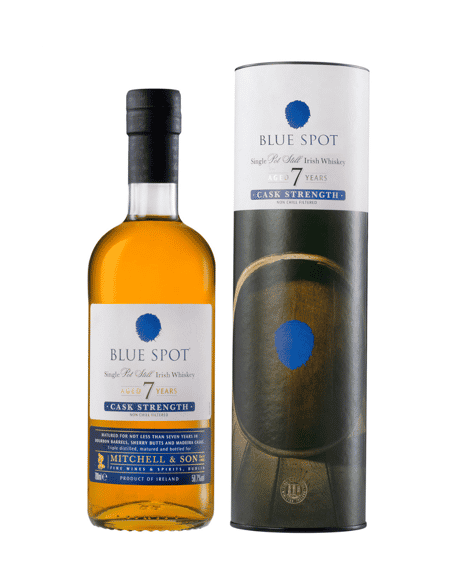 The reimagined Blue Spot is a triple-distilled, single pot still Irish whiskey that has been matured for at least 7 years in a combination of casks pre-seasoned with Bourbon, Sherry butts and Portuguese Madeira casks and it bottled at cask strength 59.2% abv.
Kevin O'Gorman, Master Distiller at Midleton Distillery, Cork, once said the distillery "looks forward to one day completing the full Spot Whiskeys range", suggesting that the last discontinued expression Blue Spot was set for a return. This seems to be the worst kept secret since Teeling's Peated Single Malt expression Blackpitts.
Spot Whiskey History
The Mitchell family commenced trading in Dublin in 1805, selling fine wine and confectionary before moving into whiskey bonding in 1887, and matured their whiskey in casks under the streets of Dublin in their network of underground cellars. When their fortified wine casks were filled exclusively with Jameson spirit from the old Bow St. Distillery, they were marked with a daub or 'spot' of paint which identified how long the barrels would be matured for. Blue for 7 years, Green for 10 years, Yellow for 12 years and Red for 15 years, hence the name Spot Whiskey.
Blue Spot is bottled at 59.2% abv and has an RRP of €80. The whiskey is available in Ireland now from Jameson, Spot Whiskeys, Irish Malts, and Mitchell & Sons.