Irish whiskey has a rich history and a unique flavour profile that sets it apart from other whiskies. JJ Corry, a small independent bottler based in County Clare, Ireland, has been making waves in the whiskey world with their innovative approach to blending and aging Irish whiskey. One of their standout offerings is The Gael Irish Whiskey, a complex and flavourful blend that showcases the best of Irish whiskey tradition.
This was a first release of 60% Malt 40% Grain blend which was awarded Gold medal at the 2017 Irish Whiskey Awards. The first batch was a release of 7,500 bottles, ABV 46% and RRP of €80. This is the latest rebranding of the JJ Corry bottles.
The Blend
The Gael is a blend of malt and grain whiskies, sourced from various distilleries across Ireland. JJ Corry's master blender, Louise McGuane, carefully selects and blends the whiskies to achieve a balance of flavours that is both familiar and surprising. The Gael is aged in a combination of bourbon and sherry casks, which impart a range of flavours and aromas to the whiskey.
In October 2018, The Gael became a multi-award-winning release, receiving numerous gold medals at the Irish Whiskey and World Whiskies Awards. The name JJ Corry has announced its return to the World of Irish Whiskey.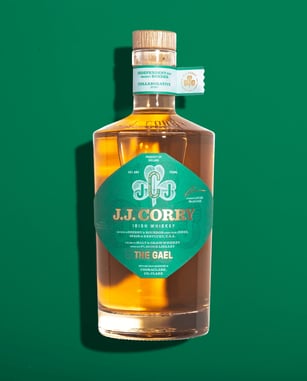 Tasting Notes
On the nose, The Gael is rich and fruity, with notes of dried apricot, fig, white peaches and honey. On the palate, it is smooth and full-bodied, with flavours of vanilla, caramel, orange peel and toasted oak. The finish is long and warming, with a hint of spice and a touch of sweetness.
The Story
JJ Corry is named after a legendary Irish whiskey bonder who operated in the early 1900s. Bonders were independent merchants who sourced whiskey from various distilleries, blended and aged it to their own specifications, and sold it under their own label. JJ Corry was known for his skill in blending and his commitment to quality, and his legacy lives on in the modern-day JJ Corry brand. From the outset, the company has been crystal clear about its aim to 'bring back the lost art of Irish whiskey bonding'.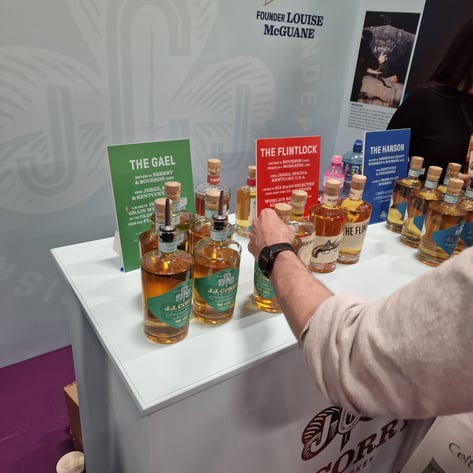 The Future
JJ Corry The Gael Irish Whiskey is a testament to the art of blending and the rich history of Irish whiskey. It is a complex and flavourful whiskey that showcases the best of what Irish whiskey has to offer. Whether you're a seasoned whiskey drinker or a newcomer to the world of Irish whiskey, The Gael is a must-try. So pour yourself a glass, sit back, and enjoy the taste of tradition and innovation in every sip.