Kilbeggan Irish Whiskey is created and named by the famous Kilbeggan Distillery, which dates back to 1757 and was revived by John Teeling and the Cooley Distillery in 2007. The distillery is so highly respected and viewed as one of the oldest standing distillery in Ireland. Some observers rest their case for that on the point that Bushmills is in Northern Ireland and not the Republic of Ireland, and if you go to the distillery itself you might hear some quibbles over Bushmills's license and documentation. Certainly the facility houses the oldest working still in the country, since one of the copper pots is old Tullamore Dew kit that is almost two centuries old.
Kilbeggan Irish Whiskey, however, is a creature of a different lineage. It is named for the distillery rather than actually made there. The brand predates the reactivation of the distillery, and as a blended Irish whiskey, much of the content comes from whiskey types that cannot even be made at Kilbeggan. According to some early reports, pot still whiskey made at the distillery was not even supposed to become available until 2014.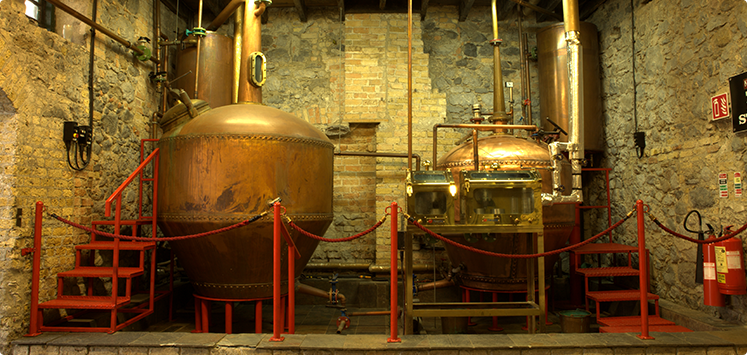 One of the things that sets Kilbeggan apart from most of the other whiskeys in Ireland is that it is double distilled, in much the same way as things are done in Scotland and the United States. Defenders of double vs. triple distillation say not going around a third time leaves more of the natural flavours in the whiskey, something the triple distillers would dispute, but those differences are part of what makes Irish whiskey so interesting.
Whether it be grain or malt, all the whiskey in Kilbeggan is aged in ex-bourbon barrels for at least three years. Kilbeggan is bottled at 40% abv. The Kilbeggan under review here is the mass market version, and should not be confused with the Distillery Reserve Malt or the 18 Year Old, which it sometimes is due to the evolution of the brand's labelling.
The Whiskey
In the glass, the whiskey has a solid yellow-gold colouring, richer than one usually expects from a mass market Irish whiskey. The nose is a smooth one, the scent being predominately of grainy, cereal sweetness and toffee, with notes of vanilla and nuttiness.
The flavour brings a honey, malty aspect out in the sweetness, and adds a peppery, woody note that is just a tad astringent. The finish is a light, short one, and continues on that dry, woody note.
Tasting Notes:
Nose: Vanilla, custard and a hint of fresh bread.
Palate: Sweet popcorn, hazelnut, and dark fruits.
Finish: Crisp and fruity with a lingering cinnamon spice.