Lambay Irish Whiskey Company have released their first age statement ultra premium whiskey, The Lambay Single Malt 20 Years Old Castle Prestige Edition. Lambay Whiskey brings together the indulgent flair of cognac, one of the richest French Eaux-de-Vie and oak barrels, renowned for what they impart to liquid. The resulting liquid is endlessly elegant - resonant, fruity, at times woody, and with toasted notes and a whisper of spice.
Lambay Whiskey
The story of Lambay Whiskey centers around two great families, Baring & Camus, as-well as one mysterious and alluring island. The House of Camus, true to its calling as the world's leading family-owned Cognac producer, reveres the terroir that is home to its exquisite Cognacs and holds firmly its commitment to crafting the best Cognac in the world. Sharing similar values and the rich heritage of the emblematic Baring family, stewards of Lambay Island, both great houses are committed to creating best-in-class Irish whiskey with a Cognac cask finish. One of dynasty and devilment, rarity and refinement, a pure taste of the extraordinary.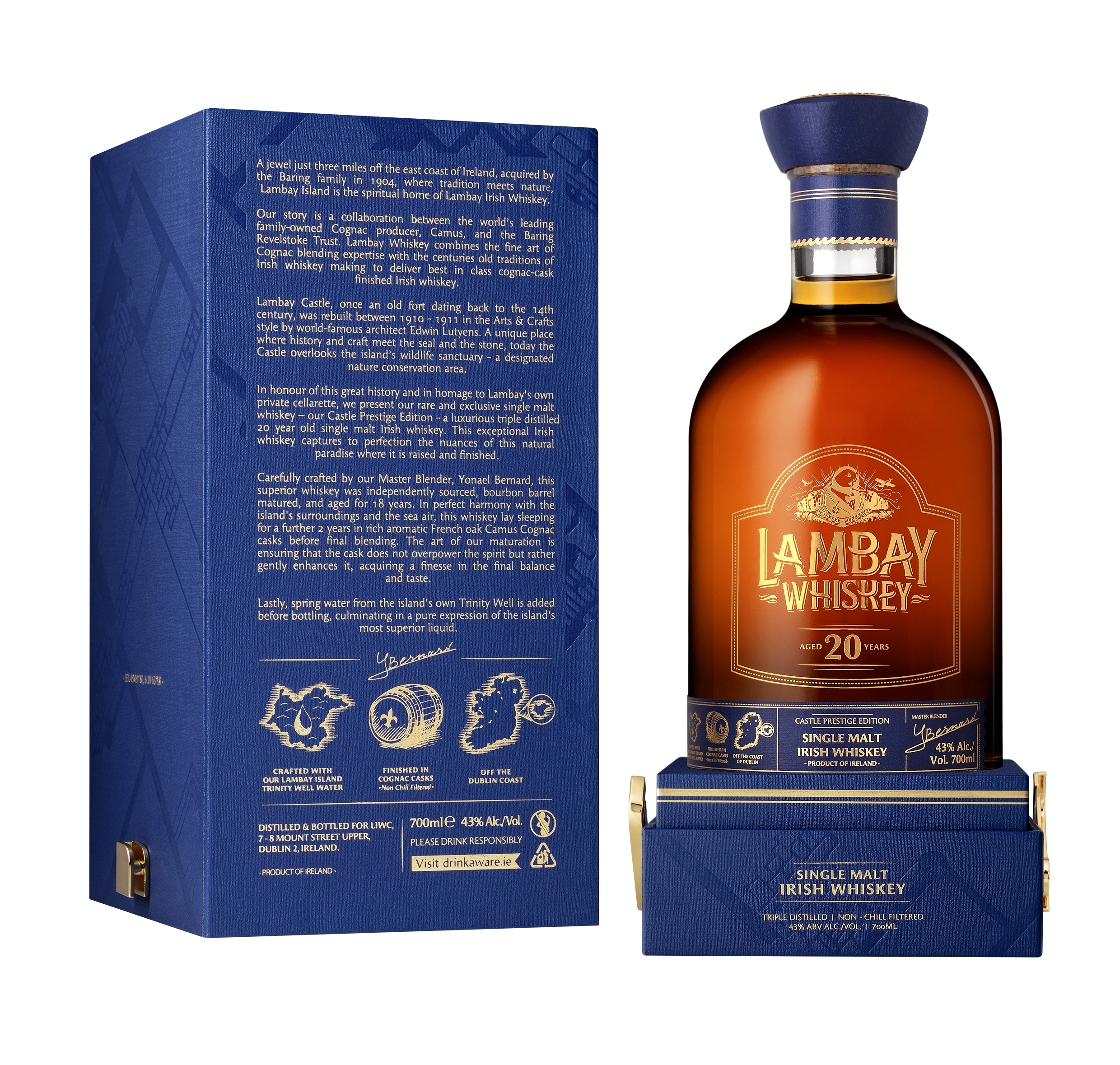 In honour of this great legacy, Lambay Whiskey presents Lambay Single Malt Castle Prestige Edition 20 Years Old. This limited edition (only 8,000 bottles) first-release single malt whiskey that is described to be the quintessential expression of the Lambay Whiskey brand.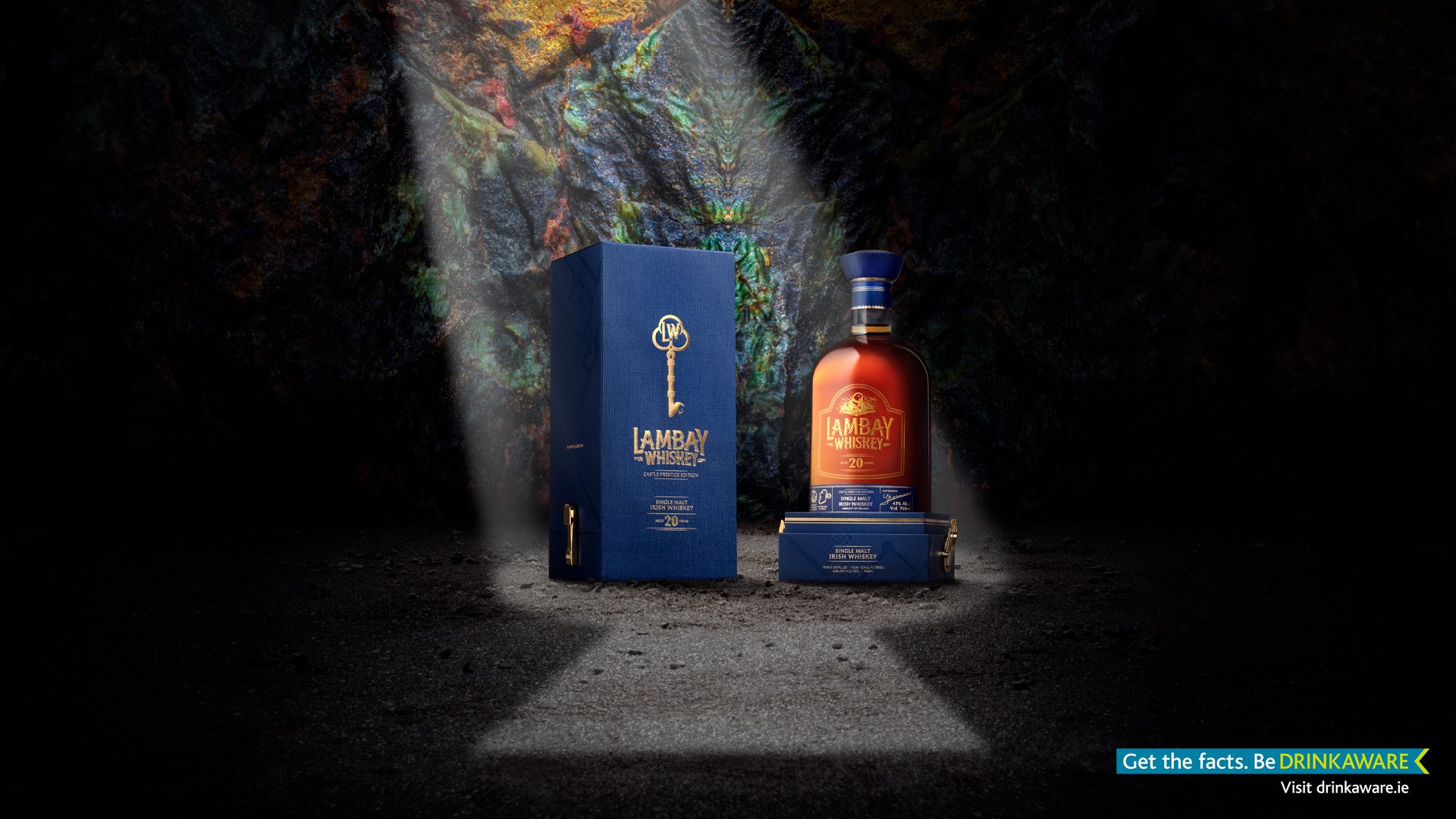 Lambay Single Malt 20 Years Old – The Castle Prestige Edition
A luxurious triple distilled 20-year-old Lambay Single Malt Irish Whiskey. This superior aged distillate has been delicately sourced from a leading Irish distillery and carefully aged in bourbon barrels for 18 years, before being finished for a further 2 years in Cognac casks that have been exposed to the sea air under the watchful eye of Lambay's Master Blender, Yonael Bernard.


This product is a story of true collaboration - not only with whom we sourced our liquid, and the cross international teams involved but also through the medium of living art working alongside local Dublin artist - David Norton.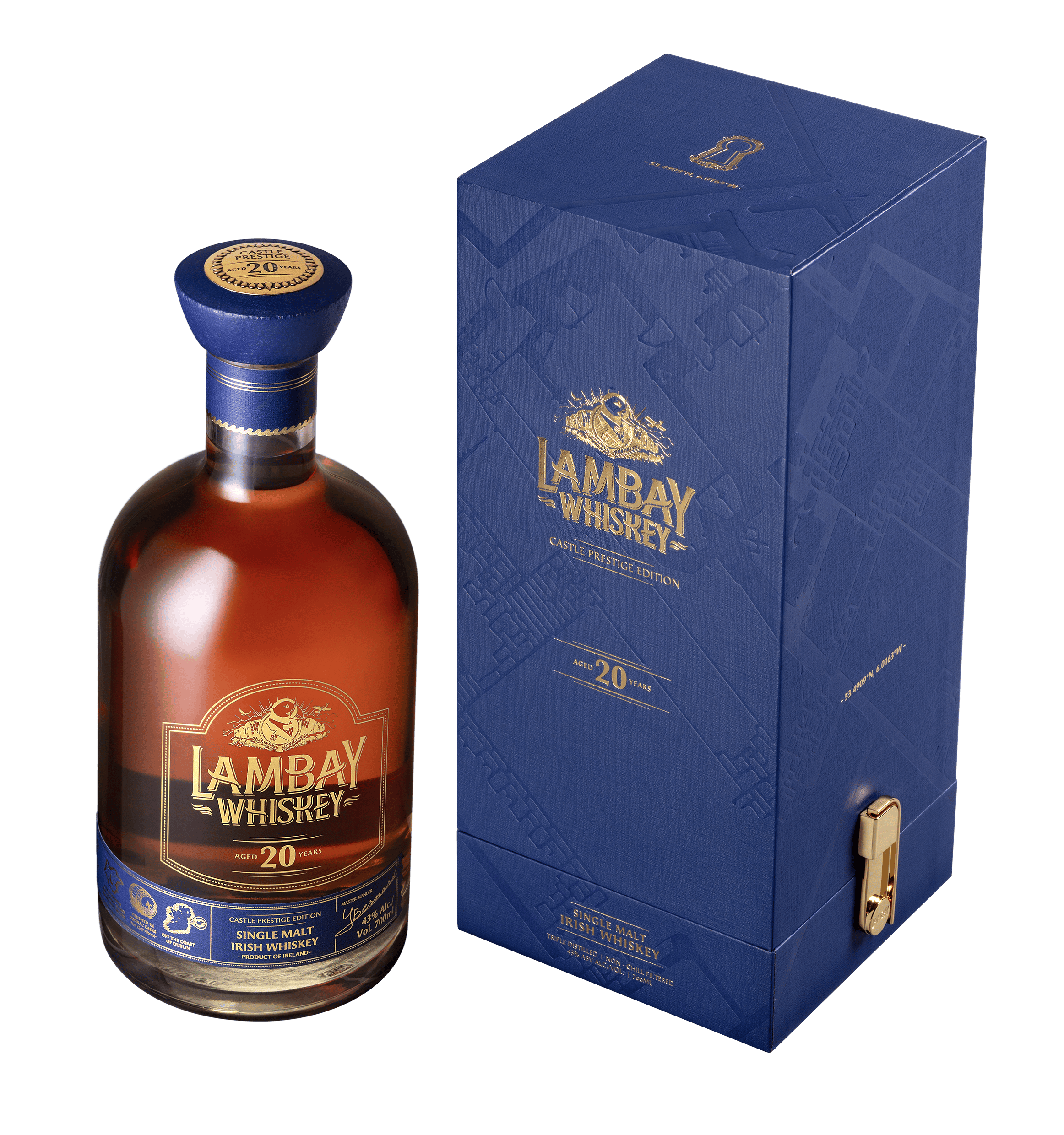 In celebration of this new release, Lambay have created a dedicated microsite that combines the expertise of their craft story, with experiential charm such as a private tasting with their master blender that combines the expertise of five generations of the finest cognac producer Camus with the unique elements of Lambay Island, creating what they feel is the quintessential expression of Lambay Whiskey for all whiskey collectors alike: https://unlocktheuntold.lambaywhiskey.com/

Tasting Notes: Lambay Single Malt 20 Years Old
Nose:
Warm vanilla, smooth oak, mature plums, green apples, hints ofIodine, and lingering rancio. Aromatic yet gentle and pleasant, the maritime influence of salt and iodine is present, with rich vanilla, rancio, and a hint of spice and green fruits.

Taste:
Exotic spices such as Saffron, Ginger, and pepper, with sweet pastry-like notes of almond, honey, and nuts(walnuts). Plum & Apple fruit is well balanced with this cognac-cask finish, lingering spice notes of ginger create along finish of green fruits & spice.
Finish:
Explosive long-lasting rancio fruit balanced with salt, pepper, and an elegant smooth lingering long finish. Long-lasting sweetness with a good balance of oak and salt, a lingering mouthfeel yet elegant in the finish with hints of honey and ginger.