Lyre's American Malt Non-Alcoholic, you read that title correctly... in the spirit of Dry January (to which I'm not taking part in, but some readers/followers are), I decided to see what options are out there, and this brand drew me in. I've never heard of Lyre Spirits or of any non-alcoholic "whiskey" brand. But let's dive in here and see what it's like.

First look, the branding is slick, the colours are spot on, it stands out and you would easily be fooled into thinking that it's a Bourbon. That's is as close to a Bourbon as this gets. For non-whiskey drinkers, it's easy to be fooled by the dark colour and promise that this is a substitute for whiskey. The ingredients are: Water, Glucose Syrup, Caramel Sugar Syrup, Natural Flavouring and Natural Sweetener. However, let's give this a try and now onto the tasting.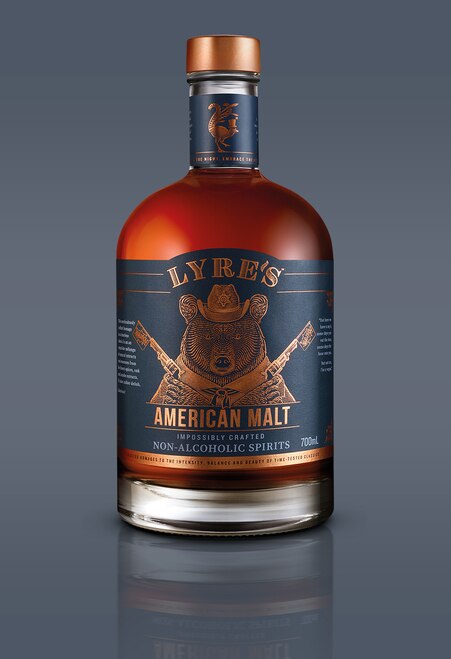 On the nose, this really hits you hard like a high volume spirit would. I get notes of charred oak, then burnt sugar, and then medicinal, I also get a lot of malt such as from a beer. It's quite a strong aroma.
On the palate, it's very light, like a sweetened water, with a hint of beer, and a slight caramel malt coming through. From the smell, I was expecting more of an impact and I would have liked more flavour here, I felt it was a bit too diluted. From the nose, I was predicting something like Angostura bitters, without the alcohol and cloves spice.
The finish, on the mouth is hydrating, with an after-taste of artificially sweetened drinks. This starts off leaving a taste of malt beer, then leaves a slight chemically sweet taste, most likely caused by the syrup flavourings.
I gave Lyre's American Malt Non-Alcoholic a couple of tries, firstly straight, as I would with any whiskey, then I tried it with ice, and then with a few drops of water. It tasted the same each time.
Recommended serving suggestion:
Personally, it's just not for me as I much prefer the real stuff, however, if I was the designated driver or doing Dry January, Lyre's American Malt Non-Alcoholic is a good attempt into an untouched market of 'non-alcoholic whiskey'. At €26 this seems a little on the expensive side for what it is. I'd love to hear your feedback and if you've tried this or any other non-alcoholic alternatives. I'm definitely going to give this another try, maybe adding it to cocktails / mock-tails or if there are any other suggestions out there.