The Midleton Very Rare Dair Ghaelich collection is renowned for it's high quality and delicious pot still whiskey. This is the third release in the Dair Ghaelach range following on from the Grinsell's Wood and Bluebell Forest releases, this variation is of Irish virgin oak casks from the Knockrath Forest in County Wicklow.
Here's a quick history lesson for those who are unfamiliar with the Dair Ghaelach collection: It's simple, tasty, and wonderfully unique. Created over ten years ago, by Irish Distillers (the owners of the Midleton Distillery), they set out to explore the possibilities of finishing their single pot still whiskey in sustainable Irish oak from estates throughout Ireland. To take it even one more step further, they also wanted to keep the oak trees separated to test the subtle differences and effects they can have on the end product and flavour for the whiskey. That's the reasoning for having 7 different trees/bottles.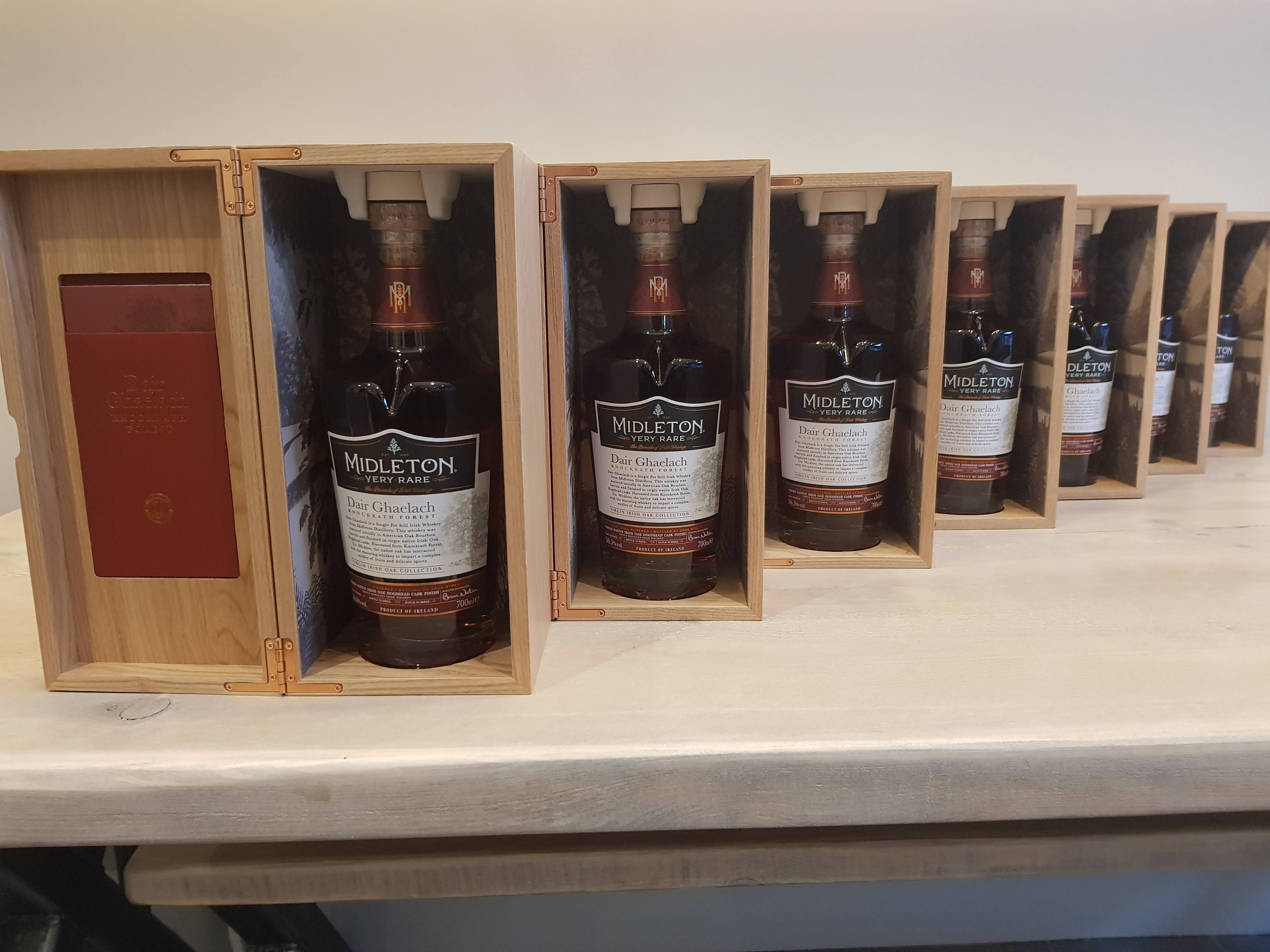 Now down to this delicious liquid contained in these crafted wooden boxes and glass. For this 3rd release in the series, the 7 trees, each of which has matured selected Midleton Whiskies between 13 and 26 years old. This Single Pot Still Irish whiskey was matured initially in American Oak Bourbon barrels and finished in virgin native Irish Oak Hogshead casks grown on the Knockrath Estate.
The Knockrath Forest has been owned and looked after by the Brabazon family since the 16th century. The trees, once felled, were then transported to the Maderbar sawmills in Baralla, north west Spain to be quarter sawn, before being transferred to the Antonio Páez Lobato cooperage in Jerez. Following a 15 month drying process, the staves were coopered into barrels, lightly toasted, and shipped back to Ireland to be filled with the aforementioned vatting of single pot still whiskey for a finishing period of two years.
Master Blender, Billy Leighton, said: "It's an honour to present the latest edition in the Midleton Very Rare Dair Ghaelach collection. Truly a taste of Ireland, the barley, water, oak and indeed craftspeople at the heart of this expression are all home-grown, making us extremely proud to share this latest expression in the Midleton story with the world."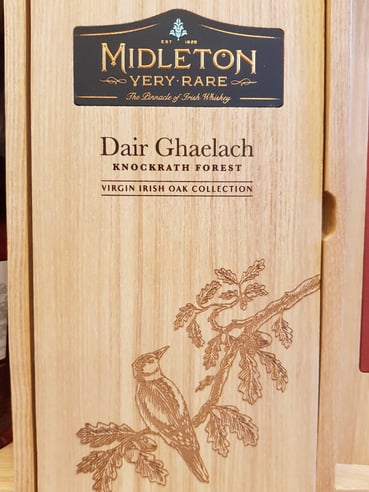 Overall, each single cask/tree is a big, bold, and a brute of a whiskey, especially being at cask strength. The effect they were looking for has definitely had a huge impact. The virgin Irish oak makes this whiskey fresh, fruity, and a spicy character of the Midleton single pot spirit shines through. Each bottle contains clear differences, yet subtle ones, which made this tasting experience all the more interesting. However, the tree that stood out from the crowd was tree No.5. It was considerable different to its' siblings.
Whichever cask you do manage to taste, you certainly won't be disappointed, but to truly appreciate the mindset behind this collection, find a pub that has more than one cask, or even better, all 7, and treat yourself to a comparative tasting. This will be a memorable whiskey experience.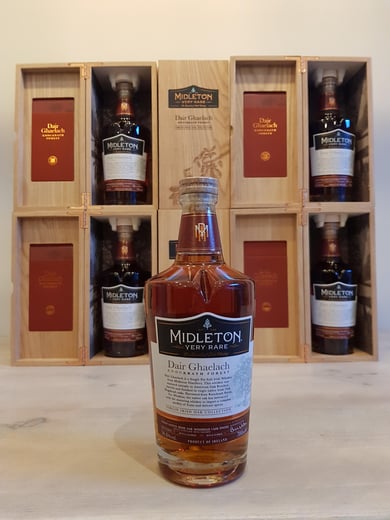 Tasting Notes: Midleton Very Rare
Dair Ghaelach Knockrath Forest


Nose: Pot still spices are accentuated by the Irish oak contribution, adding waves of toasted wood with hints of vanilla and roasted coffee, layered over fresh fruit which evolves from orchard fruits to tropical notes.

Taste: Classic pot still spices give a luscious texture to the fore, while the influence of the Irish oak adds a medley of sweet notes including chocolate and honeycomb.

Finish: Remarkably long finish with fruit and spices fading to allow the Irish Oak have the final say.