Japanese whisky follows the standard and model of Scotch Whiskey in its production methods and whisky style. To be specific, you get two main types of whiskey, malt whisky (made from malted barley using traditional copper pot stills) and grain whisky (which can incorporate various grains, most typically corn, made in a continuous column still). If one decides to create a whiskey with a mixture of the two of these, then what you get is a blended whisky (or a simply, a blend).

Coffey Still:
Typically in Scotland, there is a wide range of single malt whiskys and these are seen in the higher end product, therefore blends are mostly seen towards the low end of quality whiskys. However, as with most crafts, there are exceptions, (see Compass Box, for example), but this does serve as a good general rule. The result is that grain whisky production is largely a commodity-driven, high-volume industrial enterprise in Scotland, sometimes quantity over quality... that's for another time, another discussion, another place...
The biggest difference here with Japanese whisky production is a focus on making high-quality blends. To do this, you must take some care in your grain whisky production.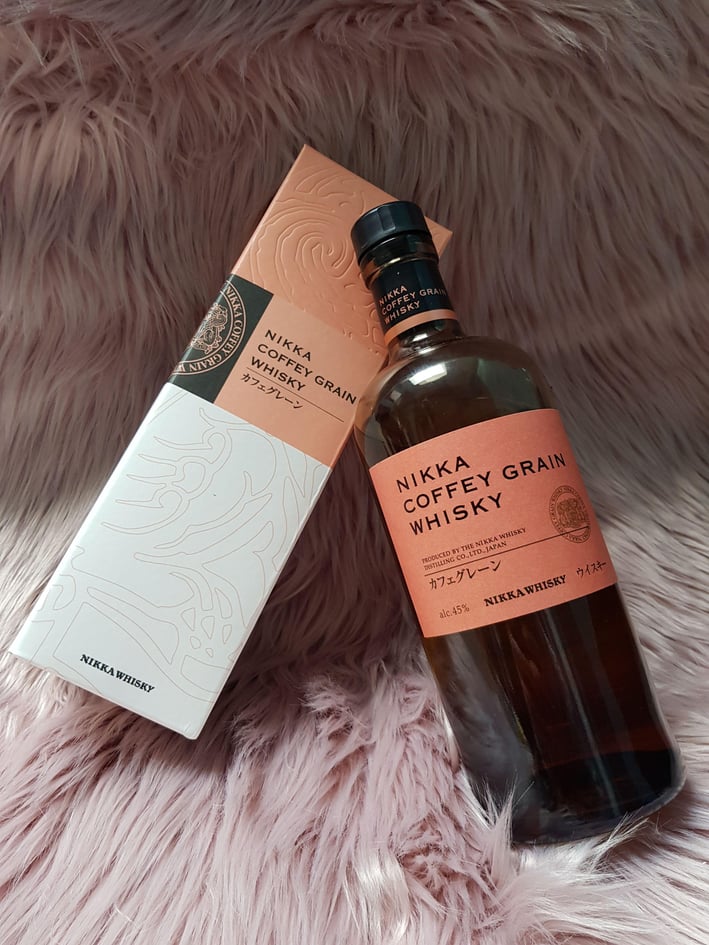 I recently chose The Nikka Coffey Grain Whisky to sample for a Japanese Tasting Night for our whiskey society, as this one is fairly commonly available. What I mean by this is, Japanese whisky is hate to get your hands on due to the high demand and lack of supply, and this is a reasonably priced whisky, again, for Japanese whisky it's well priced due to the demand and supply factors. Also, this is an unusual creation in the whisky world, a pure grain whisky. Made at the Miyagikyo distillery operated by Nikka, this corn whisky is produced in a continuous Coffey still, which is one of two in operation by Nikka for over 50 years now. Bottled at 45% ABV.
The fact there there is no sign of any malt whisky in the bottle means that the Nikka Coffey Grain is in some ways more like a Bourbon than a traditional Scotch.
This is not "Japanese Bourbon" or even "Japanese Corn Whiskey." This is quite something... else. There is no age statement, but the benchmark for this whisky is 8-12 years. The profile is candy filled, and while it is slick, it is not sticky sweet on your palate. Some vanilla and cinnamon are added to the flavours found along with honey wine and peaches.

Tasting Notes: Nikka Coffey Grain Whisky
Nose: Sweeter and fruitier than the Coffey Malt, this is has oodles of sweet spice, mango and papaya aromas, candied orange peel and coconut.
Palate: Toffee popcorn, with more of that heady citrus and tropical fruit. Quite a mouthful.
Finish: Not especially long lasting; rich oak and marmalade notes dominate.