Powerscourt Whiskey Distillery, located in the heart of County Wicklow, Ireland, is a relatively new addition to the Irish whiskey scene. The distillery opened in 2019 and is the first new distillery to open in Wicklow in over 200 years. The distillery is part of the Powerscourt Estate, which is home to a stunning mansion and gardens that have been open to the public for over 40 years.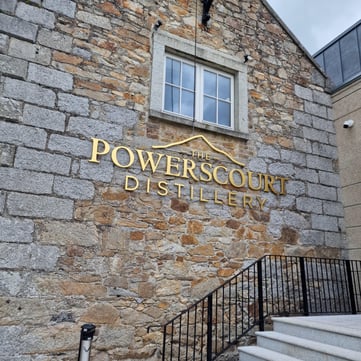 The distillery is named after Fercullen, a townland located on the Powerscourt Estate. Fercullen is the brand of whiskey produced at the distillery, and it is named after the townland where the distillery is located.
Fercullen whiskey is a premium brand of Irish whiskey that is made using traditional methods and locally sourced ingredients. The distillery uses water from the nearby Powerscourt Springs, which is filtered through granite, and locally grown barley to create their unique blend of whiskey.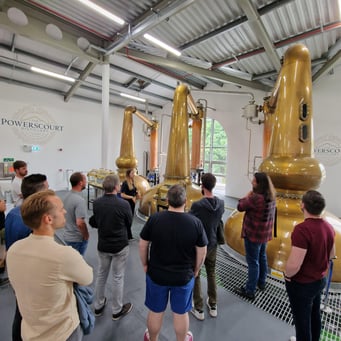 The Fercullen range includes a 10-year-old single grain whiskey, a 14-year-old single malt whiskey, and a limited edition 18-year-old single malt whiskey. The whiskey is aged in a combination of bourbon, sherry, and wine casks, which gives it a rich, complex flavour profile.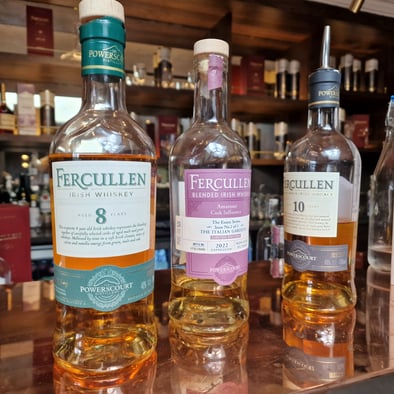 In addition to producing whiskey, the distillery also offers tours to visitors. The tour includes a visit to the distillery and the opportunity to learn about the history of Irish whiskey, the production process, and the unique features of the Fercullen brand. The tour also includes a tasting of the Fercullen range.


One of the unique features of the distillery is the onsite restaurant, which features locally sourced, seasonal ingredients and a menu that is inspired by the history and traditions of Irish cuisine. The restaurant offers a variety of dishes, including seafood, steak, and vegetarian options, and is open for lunch and dinner.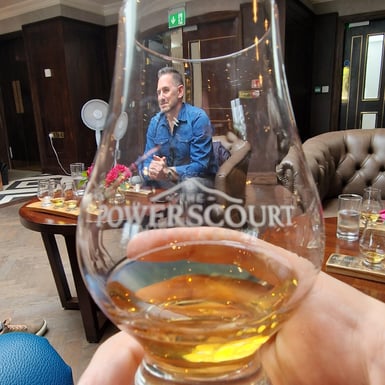 Overall, the Powerscourt Whiskey Distillery and the Fercullen brand of whiskey offer a unique and premium experience for visitors to Ireland. With a focus on traditional methods, locally sourced ingredients, and a commitment to quality, the distillery and brand are quickly gaining a reputation as a top destination for whiskey enthusiasts and foodies alike.