Slane Irish Whiskey has come to the market nearly two years after Brown-Forman announced the purchase of Slane Castle Irish Whiskey Limited. The company broke ground for its state-of-the-art distillery on September 29, 2015, in partnership with Henry and Alex Conyngham, of the Slane estate.
The Slane Distillery is located within the grounds of Slane Castle in County Meath, about a forty minute drive north of Dublin. It is the first distillery built by Brown-Forman outside of the United States in the company's over 145 year history. The Slane Distillery and Visitor Centre opened in summer 2017.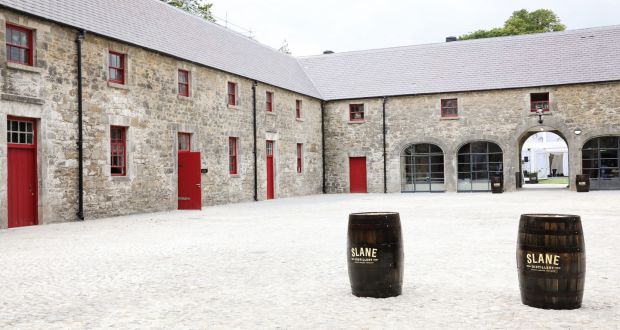 The new Slane whiskey has the look of light gold, like a rich white wine, in the glass. It's surprisingly viscous, leaving a clear, thick coat on the glass that dropped only a single, tiny, slow-moving tear for me.
The nose was grainy and woody in the main, with a good-sized dollop of vanilla making a firm statement for the new oak and ex-bourbon barrels. Notes of apples, toffee and grassiness round out the picture.
On the palate, that morphs into a vanilla, clove-accented spicy kind of sweetness. The toffee becomes butterscotch. But it's the grain and oak that stand out most. I found the finish light, starting off the butterscotch and fading fast.
Slane Irish Whiskey is made using whiskeys drawn from a trio of casks - virgin oak casks, seasoned casks (which previously contained Tennessee whiskey and bourbon) and Oloroso Sherry casks.


Tasting Notes:
Nose: Sweet oak and toasted barley at first, with layers of caramel and ginger developing later on.
Palate: Victoria Sponge Cake with plenty of jam and cream in the middle. A touch of butterscotch.
Finish: More toasty notes linger on the finish.