Teeling 24 Year Old Single Malt Irish Whiskey, my thoughts?
The Teeling 24 Year Old Single Malt Irish Whiskey, Part of Teeling's new high end of the range of Vintage Reserve Collection, was first distilled in 1991 and matured in Bourbon casks then allowed marry in Sauterne wine casks producing a wholly unique taste experience. The unique dual maturation imparts an extra depth of fruit flavours that perfectly complement the hint of smoke derived from the inclusion of a small portion of Peated malt as part of the original ingredients used in production. This small batch bottling, limited to 5,000 bottles per batch, was hand bottled in unique decanter bottles and come with their own certificate of authenticity. Recently awarded the title of World's Best Irish Single Malt, this is a whiskey to be savoured.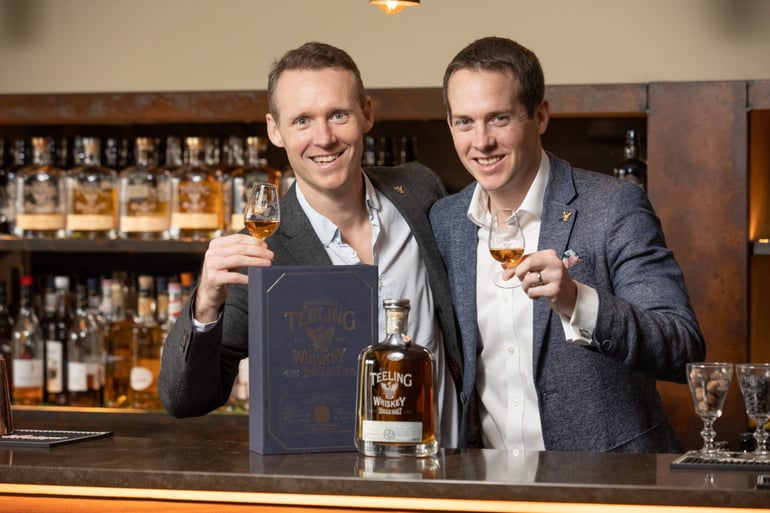 That dark fruit carries through on the taste, where it mixes with some intense notes of toffee and butterscotch. There's certainly some heat that plays out like a bit of pepper on the backend but the mouthfeel is buttery and full, coming off a little honey-like. There's some smoke mixed in on the backend of the sip, but it's nothing like the peaty single malts that you find coming out of Scotland. This is the kind of whiskey that you should just drink neat, it's that good and it's that expensive.
Take a few casks of the classic Teeling 21 profile (quinces, grapefruits, pineapples), add a few drops of the 'Maria label' profile (red fruit jams, bananas flambéed) and a little of the peated indie bottlings. That pretty much sums it up for me. Complex whiskey, darker / jammier than what we're used to from Teeling, and just a hint of peat.

Tasting Notes: Teeling 24 Year Old Single Malt Irish Whiskey

Nose: Aromas of white grapes, cut grass, apricots and white chocolate.

Taste: Silky smooth, with flavours of fig jam, honey, apricots, white chocolate and crisp saltiness at the end to balance the sweetness off.

Finish: Long and mellow.