Teeling Single Pot Still Whiskey kicks off the phoenix rising from the ashes. It was during the 19th century, known as the last golden era for Irish Whiskey, that the Dublin distillers were made famous by creating perfection in the use of unmalted barley and triple distillation. This is the first new release from Teeling Whiskey Distillery that pays homage to the traditional Dublin style of Whiskey making. The Teeling Single Pot Still Irish Whiskey is crafted using a recipe of 50% unmalted spring barley and 50% malted barley which was triple distilled and matured in hand selected casks until they we're satisfied with the product. It's not how everyone makes Irish Whiskey, but as they say, "It's their way", and that is the Spirit of Dublin.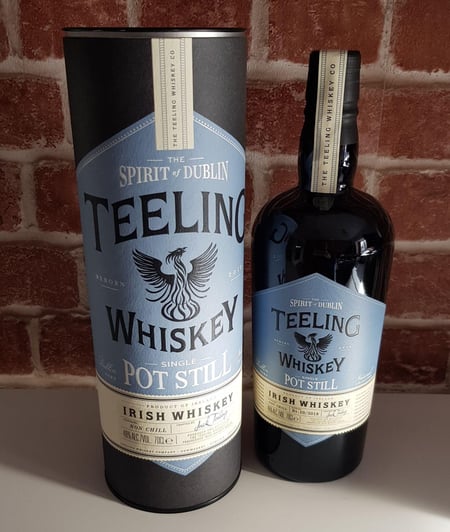 The first whiskey distilled from the Teeling Distillery, which is the first new distillery in Dublin in 125 years. Before this, anything in a Teeling bottle was made at the Cooley Distillery, which was founded by John Teeling and now owned by Beam Suntory. The 'reborn' Teeling brand was founded in 2012, and has been known in recent years for both more run of the mill bottlings and also some super old expressions, including a highly coveted 34 year old Irish whiskey.


Tasting Notes: Teeling Single Pot Still Irish Whiskey

Nose: Rich notes of Grapefruit, mango, white grapes, luscious peach and citrus.
Palate: White pepper tickles the tongue, notes of American Oak, vanilla pods, baked biscuits, and warm peaches.
Finish: A very dry finish, small burn, cooked barley, hints of spice and lingering maple sugar.