Got some Irish Whiskey in your drinks cabinet? Irish whiskey has a unique flavour profile that sets it apart from all other types of whiskey. The flavour is on the lighter side with the lack of peat smokiness that aligned to Scotch, with a lightly floral fruity scent and hints of nutty and vanilla tones. This gives the drink a mellow finish, especially compared to the spicier finish of bourbon or rye whiskey.

Ever heard of an Irish Whiskey Mule, or go for the even more delicious Irish Sour? These drinks don't have to just be drunk on St Patrick's Day, but I tend to go to these as the warmer summer days are coming.
Now, what's an Irish Mule? This cocktail is a classic spin on the Moscow Mule, which is bubbly and light, with a spicy whiskey finish. It's a good intro drink to whiskey and a way to make any party more fun! Even better: it couldn't be easier: all you do is pour 3 ingredients into a glass.


What's an Irish mule?
The Irish mule is a whiskey-based spin on the Moscow mule, a classic cocktail invented in the 1940's. When it was first invented, this drink may have been a ploy to sell vodka, ginger beer, and copper mugs, a very clever marketing campaign if so. The mule is part of a family of cocktails called bucks: drinks made with ginger beer or ale, citrus juice, and liquor. So a Moscow mule is a vodka buck, and an Irish mule is a whiskey buck!


How to make an Irish mule?
Making an Irish mule is as simple as pouring three ingredients into a glass: there's really no technique or skills required. All you have to do is juice a lime: then pour! Here's what to do:

Pour 50ml Irish whiskey, 1 tablespoon lime juice, and 150ml ginger beer into a copper mug or serving glass of your choice.
Add ice and garnish with lime. Done!
Which Irish whiskey & ginger beer to use?
You can use any brand of Irish whiskey for an Irish mule. The nice thing about a mule is that there's no requirement for top-shelf whiskey. Because the ginger beer and lime are pretty strong, you can get away with cheaper alternatives. I used Jameson Irish whiskey, one of the most recognizable brands, but feel free to use your favourite brand. And, you can use up leftovers with other great Irish Whiskey Cocktails, such as an Irish coffee or an Irish sour.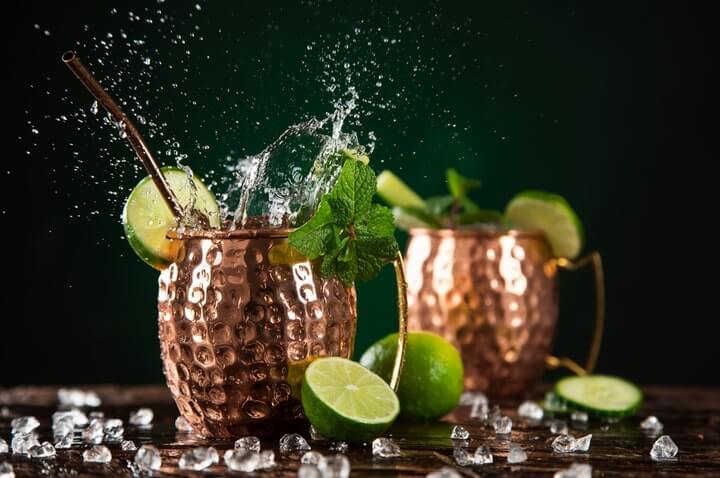 50ml Irish whiskey

1 tablespoon

fresh lime juice
150ml Ginger beer
For serving: ice, lime wedge, fresh mint
Instructions
In a copper mug or glass, pour in the Irish whiskey, lime juice, and ginger beer.
Add ice and garnish with a lime slice. Serve immediately and enjoy!