Tipperary Boutique Selection Watershed Single Malt Irish Whiskey is, for now, a sourced and limited release whiskey. Each batch is taken from six first-fill Bourbon barrels and bottled at 94 proof (47% ABV), personally supervised by Stuart Nickerson, the Malt Master. The water used to cut the whiskey is taken from the Ballindoney Farm in Tipperary.
Limited Edition, Single Cask, etc., whiskey prices are forever going upwards and consumers are bidding for bottles at staggering figures on auctions and in exclusive society clubs. The boom is back and the whiskey industry is not unlike the Dublin housing market/crisis.
But thankfully there are some distilleries who are deciding not to market their products out of reach of the average whiskey drinker. Aldi, yes the supermarket chain, is one of those merchants that are producing/buying and distributing some good whiskeys at competitive prices.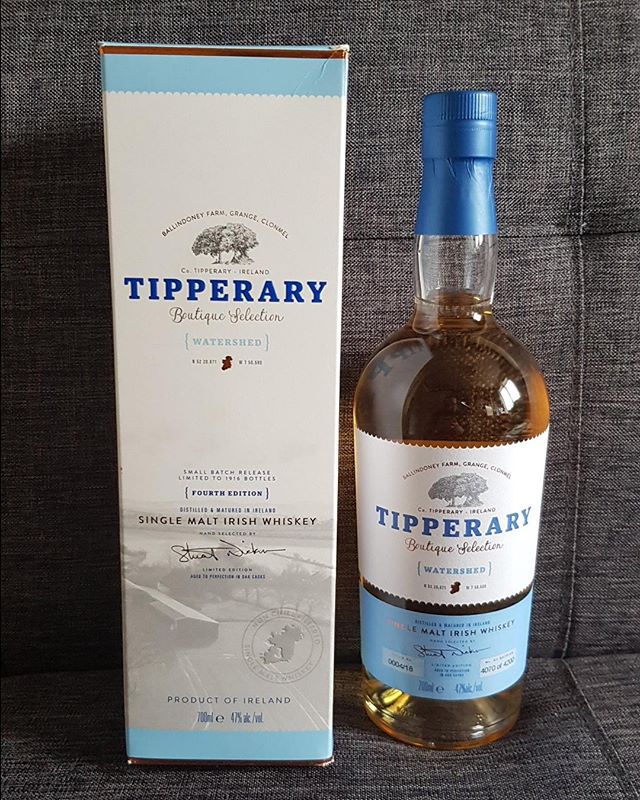 It's not your average single malt, it's from one of the new breed of Irish whiskey companies that are throwing up new faces, new flavours & new styles into the market.
I sourced this lovely bottle in Aldi in Sandyford Industrial Estate for a cool €39.99. It's a sourced malt, whilst Tipperary Boutique Distillery continue with their plans to build a distillery on their own farm that provides the water to cut this whiskey down to a pleasing 47% ABV, and the farm will most likely provide the barley for future releases.
The colour is a pale gold with decent legs on show. A fresh, lively, slightly metallic nose with hints of vanilla greets you. A lovely warming mouthfeel pulls you in with more vanilla & caramel from the bourbon cask maturation.
There's some enjoyable warming heat towards the finish which goes a pleasingly long way with the higher ABV presentation delivering a satisfying prickly sensation on the palate.
Tasting Notes:
Nose: Buttered bread, mango chutney, turmeric.
Palate: Raisins and sultanas, with hints of cinnamon and brown sugar underneath.
Finish: Rather long indeed, with white chocolate and more brown sugar lasting.
Next time you are doing your weekly grocery shop in Aldi, keep an eye out for this beauty.