Velvet Cap is a small batch blend of malt and grain whiskies sourced from some of Ireland's finest distilleries. After blending, they rest the whiskey in a selection of bourbon, port and stouted rye casks to let the flavours marry. Velvet Cap is a new Irish whiskey, launched by Blackwater Distillery, who are renowned for their award-winning gins.
The first batch is a limited release of just 6,000 bottles of 'Velvet Cap', priced €39.95 and is available from most leading independent retailers. I was lucky enough to grab limited offer on IrishMalts.com which includes a signed copy of 'The Whiskeys of Ireland' by Peter Mulryan and a free Blackwater distillery tour, at the reasonable price of €64.95.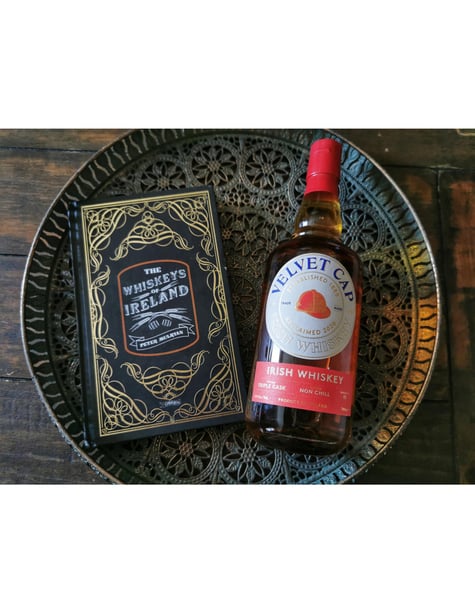 Velvet Cap is a premium blend of 50% malt and 50% grain whiskeys sourced from some of Ireland's finest distilleries. The distinctive taste comes courtesy of Head Distiller John Wilcox, who was inspired by the history of the original Velvet Cap bottling from Dungarvan.
Peter Mulryan, Blackwater Distillery said; "We've always been whiskey drinkers, not whiskey collectors. The idea behind Velvet Cap was to create a whiskey to be savoured, not stashed away on a shelf. This is a dram I want people to return to again and again."
This whiskey takes its name from the velvet caps traditionally worn in point-to-point horse racing. This popular sport dates from 1752 when riders raced over fence and ditch between two points: St John's Church Buttevant to St Mary's Church Doneraile in Co Cork–from one steeple to another, hence the term steeplechase.
While we wait on delivery of this bottle for us to review, here are the 'Tasting Notes' from the Blackwater Distillery:
Tasting Notes - ABV 40%
Colour: Warm colour of royal flax with brilliant clarity.
Nose: Candied banana, honey, dark stonefruit & almond.
Mouthfeel: Full mouthfeel with lingering legs on the glass.
Flavour: Foundation of malt with vanilla, plum, and agave.
Finish: Fruity esters from the tropics brightly cross the palate.