To say the packaging is a bit cheap, well it's a simple cardboard box with a paper label stuck on it. As for the bottle design, it reminds me of a cough syrup bottle. At around €40-50, there are other bottles that spend a lot more attention to detail on bottle design and packaging. However, whiskey reviews are about what's in the bottle, not the fancy box it comes in. This whiskey is an easy drinker and it will agree with many people.

Akashi is stated to have been around since 1919, and even if the whisky side of the operation is small and not yet well known, other than with hard-core whisky enthusiasts. Their operations of distilling is in a purpose-built plant dating from 1984. Most of that whisky went into a White Oak blend sold only in Japan but, after seeing the single malt boom and the growing worldwide interest in Japanese whisky, Eigashima have been opening up to the global market.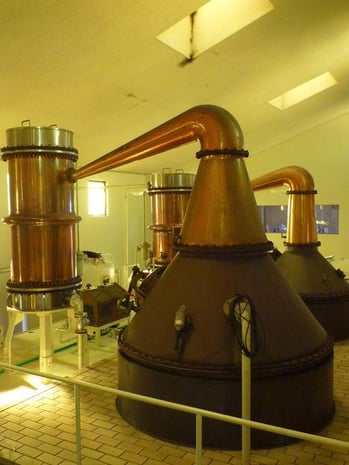 With a great response to their first release of an 8 year old single malt, Eigashima signed a deal with the French whisky specialists Les Whiskies du Monde to bring 5 and 12 year old single malts and this tasty blend to Europe.

By getting access to these whiskies outside Japan, it marks a further stage of development in an industry that is, rightly growing in confidence and self-assurance. Japanese whisky has now moved out from under the shadow of the Scotch style, which it was initially modelled on and emulated for so long, to offer a distinctive take on distilling that all lovers of whisky will enjoy. Eigashima is not a large producer but its products offer yet more evidence of the infinite variety to be found in the world of whisky.
Akashi White Oak is Japanese blended whisky that has been the subject of some controversy. This is due to regulations around additives to whiskey, such as flavouring, colouring, wood barrels, etc. The bottling for this whisky in the home market of Japan is made with malt whisky and molasses spirit, which would not be classed as 'whisky' in the EU. This export version, however, is made from malt and grain whiskies.


Tasting Notes: Akashi White Oak
Nose: Honey, apples and wood.
Palate: Attractive ginger spice; more fruit notes, then developing a creamy sweetness.
Finish: Some smoke appears to add intrigue at the last.