Yellow Spot 12 Year is an interesting Single Pot Still whiskey. Whereas Scottish whisky uses malted barley (which has been tricked into germinating), Single Pot Still whiskey uses a mixture of malted barley and unmalted, or green, barley, before being distilled in a pot still.
The Yellow Spot 12 year old is produced exclusively for Mitchell & Son Wine Merchants, Dublin, where the brand originated. The spot branding, incidentally, comes from the way the casks are marked with coloured spots of paint, and the recent revival of Red Spot, but there used to blue spot as well, let's see what the future holds. This particular style of whiskey was last bottled in the 1950s, and Yellow Spot is the rare taste of a bonder's style Single Pot Still Irish whiskey. Bottled at 46%, it's made up of whiskey that's been matured fully for 12 years in three types of cask: American bourbon casks, Spanish sherry butts and Spanish Malaga casks, which does imprints it's own impression to the whiskey.
This maturation gives an added layer of complexity compared with its younger sibling Green Spot, but delves into the more complex aspects of the Single Pot Still Spirit. Aromas of mown hay, cracked black pepper, nutmeg, clove oil and green tea. Sweet honey and peaches from the Malaga casks. Pot still spices, honey and red apple combine with flavours of creme brulee, fresh coffee and toasted oak all evident throughout. Sophisticated and complex with a distinctive honeyed character and a mix of red grape and dry barley on the finish.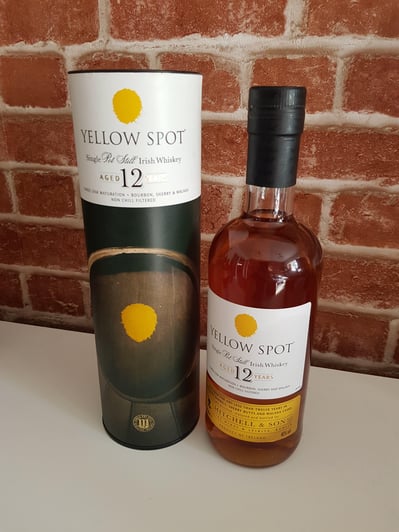 Tasting Notes: Yellow Spot 12 Year Old
Nose: There are masses of fleshy stone fruit on the nose, especially peach and apricot with hints of sherried dried fruit and Bourbon cask vanilla.
Palate: The palate is equally fruity with a substantial body and a velvety texture.
Finish: The finish is long and sweet with notes of marzipan and dried apricots.