An Púca is an old Irish folklore and the most feared Faerie possibly because it appears only at night and enjoys creating havoc and mischief. The meaning of Pooka, pronounced poo-ka, is from the old Irish word 'púca', which means 'goblin'.
In midsummer, with the crops in bloom, all farmers can do is hope that the crops will make it to harvest time. And it is the Púca who decides whether the crops will be bountiful or fairy-blasted. An Púca is a specifically Irish word and concept, straight out of Irish folklore. Roughly translated, a púca is a type of fairy; it can appear in any form, but is closer to a goblin than to a Tinkerbell-type fairy.


It is the uncertainty of An púca that caused worry: they can bring either good fortune or bad fortune. They were mainly associated with rural communities and fishing folk, and their appearance always caused concern: if a púca ruined a harvest or a catch then there would be much misery during the cold winter months after the opportunity to grow crops had gone.
That leads us to the whiskey itself: An Pùca; will this whiskey wreak havoc or bring great fortune, let's find out...
An Púca Irish Whiskey is aged in freshly emptied stout and rum casks to give a unique flavour profile. It's non chill filtered and no colouring is added. It is bottled at 40% abv, blended and bottled by Blackwater Distillery also known for Velvet Cap Irish Whiskey and a range of Gins and Vodkas.
This is a very easy drink, it encompasses the smooth characteristics of Irish whiskey, the chocolate creaminess from a stout cask, with a hint of tropical spice from the rum cask. At €25 it's a remarkable price point and a great introduction whiskey for those interested in a variety of cask finishes.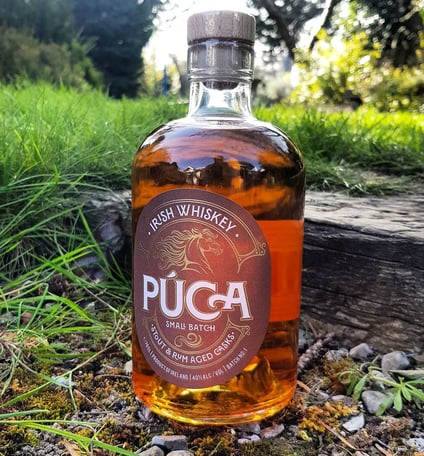 Tasting Notes: An Púca Small Batch Irish Whiskey

Nose: Aromas of light sweet cereals and corn, with slight hints of rich rum and caramel.

Taste: Subtle vanilla and spice, a backdrop of milk chocolate and raisin, slight oak flavour.

Finish: A short finish, with a hint of spice and vanilla, smooth mouthfeel but the flavour quickly fades.