Brenne Single Malt Whiskey was launched in 2012 by Allison Parc, collaborating with a French distiller in Cognac, Brenne is an Organic French Single Malt Whisky with fresh fruity notes which lives up to its attachment to the French terroir. Produced from French organic barley, this is twice distilled in the copper alembic stills normally used in Cognac production in line with the traditional method used in Cognac, the distillate waits for several years in Limousin oak barrels and then transferred to cognac barrels, bringing it complexity and softness that distinguishes it from other whiskys. The whiskys are blended in small batches and are on average six to eight years old. Rather cool stuff indeed.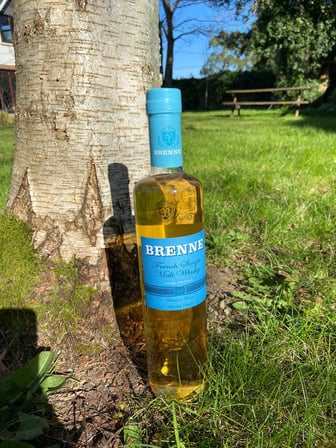 Traditional yet different, Brenne breaks the mold for single malts with its signature smooth and approachable taste, uniting people around a truly original spirit. Brenne French Single Malt Whisky was recently reviewed on one of our group tastings, and it was a very unique drinking experience. It's one of the lightest whiskeys that I've ever samples, however, that doesn't mean to underestimate this whisky. Brenne is a balancing act of fruit and light spices from start to finish. I was even quoted saying that this is a perfect example of a "gateway whisky". It's smooth, fruity, flavourful, and a very easy drink. The perfect whisky choice to share with those who have always been afraid or not fond of some strong intense flavours associated with whiskey. Brenne is complex and flavourful enough to satisfy an experienced whisky drinker, yet approachable enough to not scare anyone away. We throughly enjoyed this whisky, and my wife who after sampling over 500+ whiskeys with me, has found the first whiskey that she enjoyed.
The general term used to describe this whisky was: "Unusual". The end result is a single malt with intense notes of apricot, banana, rose, vanilla and bubblegum. It's definitely one for those with a sweeter tooth.


Tasting Notes: Brenne Single Malt Whiskey

Nose: Light sweet and floral scents at first, a hint of old school pear drop sweets and dried mango. An attendee on our previous blind tasting mentioned the smell of magic markers, great nostalgia.

Taste: Heavy brandy/cognac sweet cherries, red liquorice. Vanilla sweetness, small hint of cinnamon spice and hazelnut Nutella.

Finish: Chocolate raisins, pineapple and tropical sweetness, condensed milk and coconut.