Wayward Irish Spirits have just unveiled their latest project, the coming of age release of the Lakeview Single Estate Whiskey. The Lakeview Estate Barley-based Single Pot Still Whiskey from Wayward Irish Spirits, famed for its sourced and blended 'The Liberator' whiskies, showcases the unique maturation circumstances on their Estate and captures the soul of the place, their family home of 900 years. The 300 numbered bottles of the Coming of Age Release are all that exist.
From barley that was collected from the Estate's Hilly Field in 2018, a small batch of malt was produced in Naas, and Great Northern Distillery distilled pot still spirit to their specifications in March 2019. The House of Contentment, a 300-year-old stone-bonded storehouse on the estate, was then visited.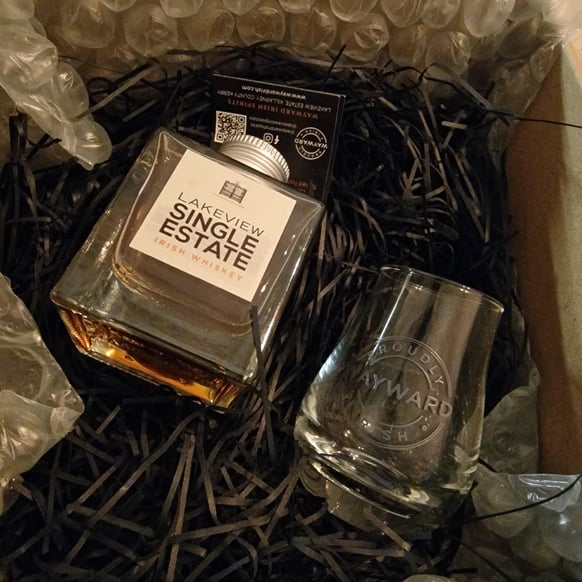 Initially aged for three months in former Bourbon barrels, followed by 40 months in former Premier Cru Bordeaux NEOC barrels with 10% finishing in former peated barrels. To achieve integration and smoothness, the Lakeview Single Estate Whiskey was carefully cut over six months (following the traditions of Cognac), with no colour added and little filtering (no chill filter).
"Rapid maturation is a sort of Holy Grail for Whiskey makers. In Killarney we say we have: seasons in an hour - resulting in lots of daily variations in temperature, causing the Whiskey to move in and out of the wood, the basis of maturation. We've been measuring temperature and humidity in our Storehouse for the last 4 years and this has shown we have a longer 'maturation season' (>7C, where the Whiskey interacts with the cask) of 10% months a year, compared to the East coast where most Irish Whiskey is matured. Speyside, for comparison, has 6 months."
Maurice O'Connell - Founder of Wayward Irish Spirits
"We have long believed that our microclimate should enhance maturation and we now have liquid proof of this with a Whiskey which many are saying tastes well beyond its 3% year age. We're calling this effect Maturation Terroir and we hope our Coming of Age Release will start a conversation on the importance of where a spirit is stored to its maturation. We think this is a specific regional effect and we look forward to seeing whether our local peers in Killarney get similar results."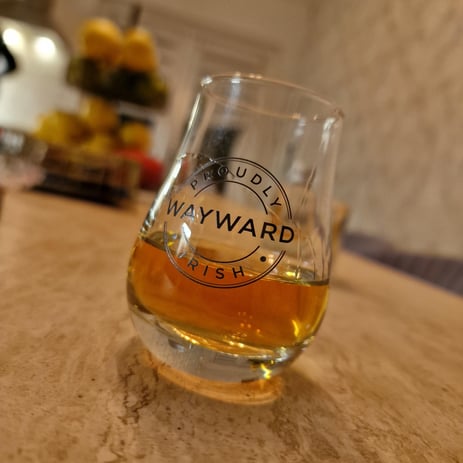 The big bottle of D'Orsay perfume that Maurice's grandmother received as a wedding gift in 1921 served as the model for the bottle. Over the course of the last century, many attempts to open the bottle have been unsuccessful, and it has become a much-discussed family struggle. Blended and bottled on the Estate at 46% abv, with just 300 numbered bottles of the Lakeview Single Estate Irish Whiskey Coming of Age Release are available from Celtic Whiskey, James Fox, Carry Out Killarney and on Irish Malts. The RRP is €195 with a 40ml miniature bottle included.

For such a young whiskey, this is an incredible example of unique maturation conditions, owing to this Maturation Terroir, many are saying that Lakeview Single Estate is mature beyond its age. Their damp ever-changing weather increases interaction between spirit and cask, enhancing the maturation of the whiskey.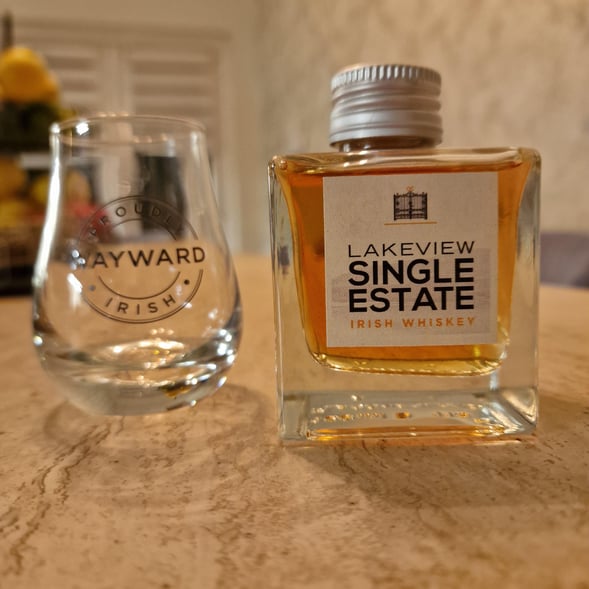 Tasting Notes: Lakeview Single Estate Whiskey Review
Nose:
A firm, vibrant dark fruit with a touch of acidity and none of the sweetness of, say, blackcurrants, but hints of cherries.

Taste:
There are strong notes of earthy grains, as well as a pleasant finish of sunflower honey and faint molasses.
Finish:
Covering a broad spectrum, including aromas and flavours of cereal, honey, which is long and warming, with subtle notes of leather, pine, and charred wood.