Building on the international success of the Teeling 21 and Teeling 24 Year Old single malts, Teeling now present their latest release; Teeling 28 Year Old Single Malt. This whiskey consists of the same liquid as the World's Best Single Malt winning 24 Year Old single malt, aged for a further four years.
The 28 Year old follows the release of the Renaissance launch of a single malt that has been matured for 18 years in ex-Bourbon casks before being finished in Madeira casks.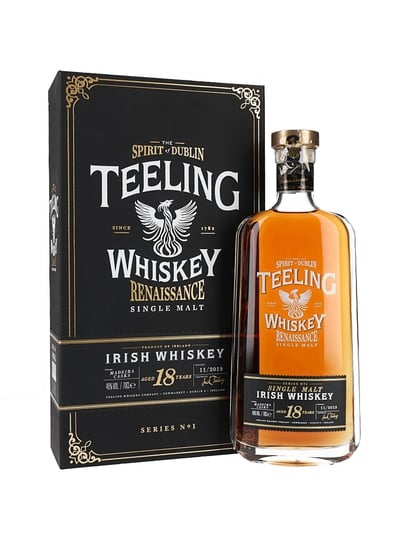 That was bottled at 46% ABV, the limited edition whiskey will be available to purchase from 2020 priced at RRP €140 (£125/US$150).
Stephen Teeling, co-owner and marketing director at Teeling Whiskey, said: "The new range marks five years down the line. Five years ago we were at a stage where it was the revival of Irish whiskey and now we're at a stage of the renaissance."
Furthermore, Teeling said it has had "so much success"with its 24-year-old single malt, which was awarded 'World's Best Single Malt' at the World Whiskies Awards earlier this year, that it is planning to launch a 28-year-old iteration of the same liquid in 2020.
The whiskey has been matured in a mix of ex-Bourbon and Sauternes casks.
"We've had so much success with the 24-year-old, which has now matured to the age of 28 years old," Teeling said. "It's phenomenal liquid and we're very excited to launch the 28-year-old, which has been aged an extra four years, in 2020."
This is a very limited release of vintage single malt whiskey, celebrating the very best that Teeling has to offer. Initially aged in Ex- Bourbon casks and finished in Sauternes, this special whiskey is limited to just 4,000 bottles.
Tasting Notes:
Finish: Long and mellow with a continuation of sweet spice.
Nose: White peaches, cut grass, white chocolate and a hint of toasted almonds.