Allegedly, there was a man named 'Augustus Bulleit' who lived in Louisville, Kentucky, and was the creator of a small batch of bourbon for his bar sometime in the 1830s'. Unfortunately, in 1860 he went missing while he was transporting his casks from Kentucky to New Orleans, or so the story goes. What isn't explained is why he was transporting the whiskey to New Orleans... when his bar was in Louisville.

That could have been the end of the story, however, his great-great-grandson
Tom stepped in. Tom was a lawyer by profession, but his lifelong dream was to revive his family's bourbon legacy. To which he finally fulfilled in 1987, never give up on your dreams folks. Today, of course, the brand is owned by the giant drinks distributor Diageo, you may have heard of them, but Tom is a regular visitor from time to time as a 'Brand Ambassador'. Are you still following the story, because we are about to throw some curveballs. The actually whiskey was not distilled at a Bulleit distillery, but it was actually distilled at Four Roses, which is in fact owned by Kirin, one of their main competitors. Diageo finally opened up its' own Bulleit Bourbon distillery in 2016, once the brand was more recognised. How there wasn't some kind of awkwardness or corporate espionage is a mystery.

On to the whiskey though, it is a lot smoother to drink than its' past. Bulleit Bourbon is an easy drinking, rye-laden bourbon whiskey. I also wouldn't want to pick a fight with Tom Bulleit because he served in Vietnam with the US
Marine Corps. However, there has been a breakdown between Tom and Diageo in recent years.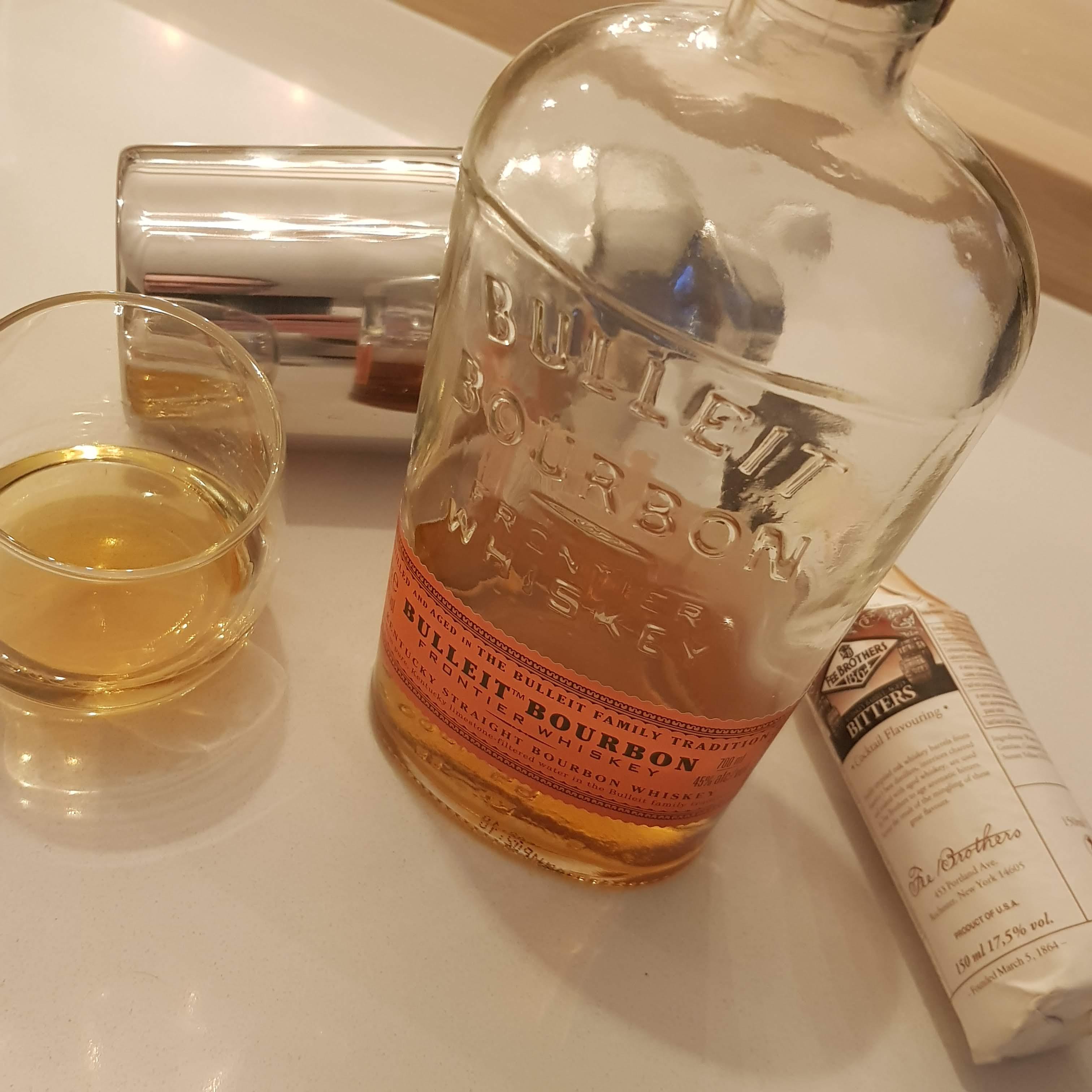 Now for the tasting of Bulleit Bourbon, first thoughts are its somewhat off the mainstream because the mash bill seems to have more rye than usual Bourbons. From saying that, this has led them to develop a Bulleit Rye, which I'll have a review coming shortly, produced by Lawrenceburg Distillers.
Fun fact, the original recipe was around two-thirds rye, which would mean that today it couldn't be sold as bourbon anyway. It's been reduced to under 30%, which is still high, and which accounts for the peppery note.
Bulleit Bourbon has no age statement, the whiskey is said to be 6 to 8 years old, which is a vintage in bourbon terms. At 40% abv it works well as a cocktail base, for me, its a regular go-to for Whiskey Sour or an Old Fashioned. As you can see from the photos, this bottle doesn't last long in my house, but if you like a bit more punch(higher abv %), try the Bulleit Cask Strength. But I'd like to see the strength restored to the original 45% abv. The barrels are put to good use when finished, they are transported to Scotland where they are used for maturing single malts for Diageo's blends.


Tasting Notes: Bulleit Bourbon
Nose: Fresh and lively, fruity and sweet. Great wood notes and orange zest.
Palate: Vanilla and honey, with citrus undertones.
Finish: Hints of spent fireworks/gunpowder, drinking chocolate and that vanilla again.