Eagle Rare 10 Year Old Bourbon Whiskey was my introduction into the Buffalo Trace family/empire. Eagle Rare uses the #1 mash bill from Buffalo Trace Distillery. The consistency or make-up is believed to be a low rye mash bill consisting of 10% or less rye. Recently Eagle Rare went through a label re-design change which moved the age statement from the bottleneck to the back of the bottle. In this process they also removed the single barrel statement from the bottle altogether. Buffalo Trace stated that because of the move from a hand-bottling line to a high speed automated line, they can no longer use the single barrel statement. This is due to the fact that a bottle could technically contain a bourbon from two different barrels when the line switches from one barrel to the next.
The market for aged single barrels is slowly shrinking and Eagle Rare presents a great opportunity to dive into the single barrel world without spending a lot of cash. But, that being said, the flavour profile this delivers isn't anything out of the ordinary. I expected sweet and subtle and that's what I got, it reminded me of Four Roses Small Batch and E.H. Taylor Small Batch, or other sweeter bourbons available on the market. It's unique in the sense that it's one of the few mass produced single barrels on the market, but that's about the only unique trait this bourbon has going for it.
What should you expect? This Eagle Rare 10 Year Bourbon gives you a very nice tasting bourbon, that's great value for money, and one that you can't go wrong with. While this won't blow you away, you won't be disappointed either. This is definitely a bottle I'd recommend any bourbon lover keep in their home bar.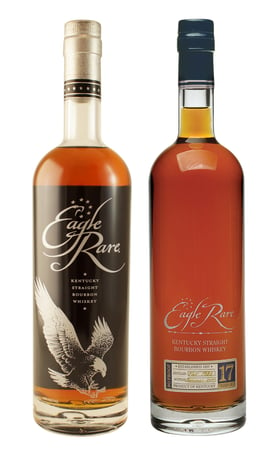 Eagle Rare 10 Year Old & Eagle Rare 17 Year Old
Tasting Notes: Eagle Rare 10 Year Old Bourbon
Nose: Subtle yet sweet and delicious on the nose, strong scents of orange peels and citrus mixed with aged oak. Some hints of toasted marshmallow, marzipan and honey.
Taste: Well this one is simple, it's sweet. Honey, toasted brown sugar, new oak, and light traces of white pepper are all present. Those who have a sweeter palate will enjoy this, especially those who are not usual Bourbon drinkers.

Finish: Sweetness continues from nose, to taste to finish. Most notes are bubble gum, toffee, and honey. Light traces of vanilla and dry leather round out the finish.