I know what you are thinking here... Jack Daniel's is a black and white label, what parallel universe is this from? Well, that's what I thought also. But there was a time when the famous Tennessee whiskey looked like this.
This new bottling of Jack Daniel's goes back to the design of the early 1900s, before 1904 to be more precise, with a green label and lots of old-tyme fonts. The liquid, though is upped to 43% from the standard 40%, isn't meant to replicate 1900s Jack - it is a novelty, as is the label design only.
The colour is a medium amber. On the nose there's a real burst of black liquorice, with thick malt, black pepper and a sour-beer note. Big oak. Slathered with vanilla. Thick caramel. Water brings out sourdough and pine needles. Typical Jack but amped up.
On the palate there is more caramel and vanilla, with the spices more in the background. Quite malty though. Oily mouthfeel - a bit oilier with water. Smoother and more subtle than you might expect, given the power of the nose.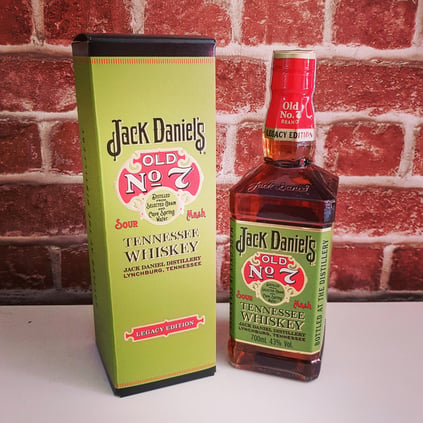 The finish is long and developing from toffee to big spices and pencil shavings, and back to the black liquorice. Going by memory, this is pretty close to the usual 43% special editions of Jack I've had in the past (could be identical for all I know). Let's see how it compares with a 47% JDSB....
It's a special limited-edition bottle of Jack Daniel's, celebrating a not-often discussed part of the whiskey's history: the days when it had a bright green and gold label. Back before 1904 this is what bottles of Jack looked like, although the distillery claim to have lost all records about why it looked like this. In the bottle, it's Old No.7, but at 43% ABV, giving it a more punch than the regular release. A must for collector's and fans of Jack Daniel's classic Tennessee style.
Tasting Notes:
Jack Daniel's Tennessee Whiskey Legacy Edition

Nose: Butterscotch, vanilla and fresh apples.
Taste: Orange zest, cereal sweetness and toasty oak, with a little spice and toffee.

Finish: Smooth and soft, with a hint of banana milkshake.