Similar to Knob Creek Bourbon, Knob Creek Rye is bottled at the same proof / Vol. and is the only standard ongoing rye product in Jim Beam's Small Batch Collection. Jim Beam doesn't disclose its mashbill, but it's believed Knob Creek Rye Whiskey is a barely legal rye at just over 51% rye, cutting it fine. Readily available at an affordable price, Knob Creek Rye is an easy choice when deciding on a staple rye to stock for your home bar.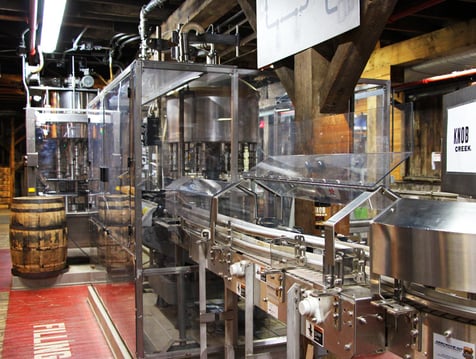 Knob Creek Rye won't blow you away by any means. What it will do though, is deliver a consistent satisfying pour. Its 100 proof is welcomed, making it bold yet still very palatable. As a result it works any way you like it - neat, on the rocks, and in cocktails if you want a more traditional flavour but desire a moderate amount of additional spice and potency. Knob Creek Rye Whiskey might easily be a whiskey some of us think of as too mainstream, but underneath it's a quality rye that just about anyone can appreciate. Knob Creek Rye is a great daily drinking rye. It has noticeably more raw character than any of the standard Jim Beam rye releases and carries a greater sense of depth making it a more interesting pour no matter what you're using it for – it has versatility. Neat this whiskey smells and drinks rich and full with a decidedly spicy delivery across the senses. In a cocktail it delivers a solid spicy backbone. The only thing I really wish it had more of was oak.
It's definitely not a light whiskey as it has a lot to offer from nose through the finish, but it's also not a deep rustic whiskey either. Combined with it's lower price point, Knob Creek Rye is one that's worth giving a shot at least once. While you may not be blown away, you'll most likely not be disappointed either.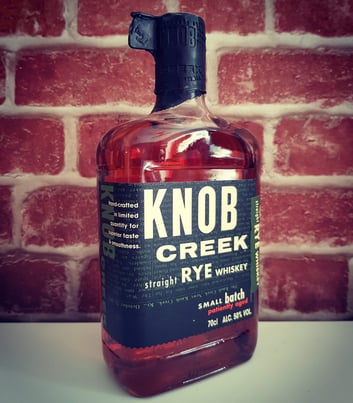 Tasting Notes: Knob Creek Rye Whiskey
Nose: For supposedly being a little over 51% rye, the nose is surprisingly expressive and more inline with higher percentage rye whiskeys. Fresh cracked rye grain, green apple, and charred oak mingle together. Additionally, there's an underlying layer of smokey syrup present. For a 100 proof rye, the nose is layered full of flavour.
Palate: Light amounts of rye grain, white pepper, citrus rinds, vanilla, pine effervescence, and oak are noticeable. The sip is light overall for a rye. It is ever so slightly spicy and not the most rye-forward sip by any means. That said, its 100 proof makes this easy to sip on and enjoy without being too hot.
Finish: Light rye spice, sweet vanilla, and oak are present at the start. The finish has a small amount of heat upfront that fades away leaving a layer of light rye and tannic oak that linger for a while. It's a nice way to end the sip, albeit it doesn't leave a memorable experience behind either.