ENJOY WHISKEY, FROM THE COMFORT OF YOUR OWN HOME
The rise in cases and lockdowns have had a major impact on all our lives, especially for us in Ireland as our main meeting point has been closed, the local pub. However, we have been very busy getting things together and in response to this, The Pot Still has launched a series of Virtual Whiskey Tastings, now available for booking. We've opened this experience to anyone outside of our whiskey society. We cater our Virtual Whiskey Tastings for groups, privately, no minimum or maximum numbers apply, or you have the option to join our monthly virtual whiskey tasting events.
You can enquire by clicking the button above and filling out the form. Once we receive your enquiry, we will source the required amount of samples of whiskey for your group. We source a large mix of whiskeys - from all over the world, from some of the well established brands and some new innovative whiskeys. We also have specific Virtual Whiskey Tasting experiences, such as Bourbon, American, Scotch, Japanese, Pot Still and Cask influenced, with many different styles to suit all palates and tastes. However, that's not all we do, we ensure you learn how to smell whiskey, how to taste whiskey and teach you the differences behind each whiskey and what sets them apart.
Our whiskey tasting kits are ready to be shipped to your guests, wherever your guests may be. We can ship the kits all over Ireland, the UK and Europe. We can set up a specific landing page for your guests to fill in with delivery addresses, or you can submit your distribution list to us, and we'll tend to the paperwork and have the kits dispatched.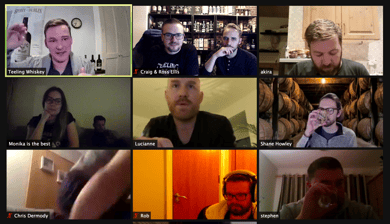 The tasting itself is delivered from the cellar of The Pot Still, by our founder and whiskey specialist, Craig Ellis, who brings to life the stories of the whiskeys being sampled, along with the overall story behind the industry. The event takes place at an agreed time/date on your meetings platform or via our Zoom meetings. Please note, our tastings are for all levels of whiskey fans, from new to whiskey to connoisseurs, our tastings have something for everyone. We like to keep things very casual, while being informative. Enjoy new whiskeys in your glass, with your friends or colleagues, all from the comfort of your own home.
What to expect
5 Whiskey Samples

1 - 2 Hour Whiskey Tasting

Learn how to smell and taste whiskey

Learn the background about each whiskey, from grains, cask, maturation process and more...

Postage included in Ireland
If you are interested in booking your Christmas Party event with us, get in touch as bookings are filling up fast!